Nvidia GeForce GTX 1070 8GB
Nvidia GeForce GTX 1070 8GB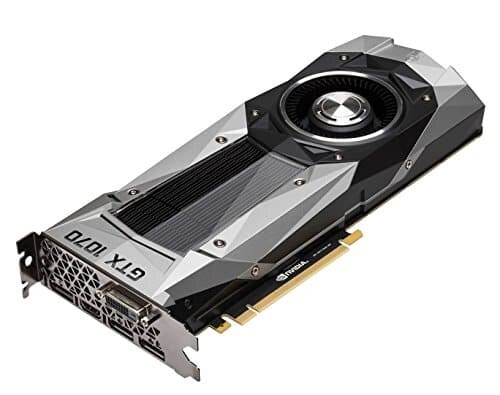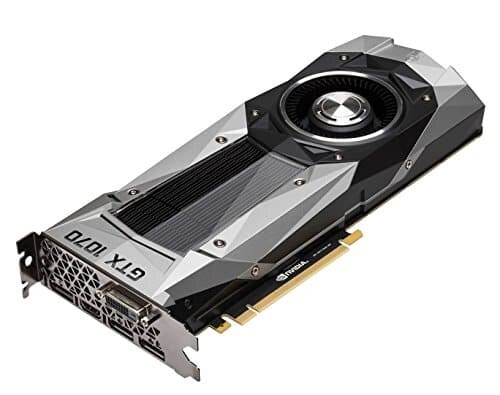 Nvidia GeForce GTX 1070 8GB
10: GAMING PERFECTED – Nvidia GeForce GTX 1070
Take on today's most challenging, graphics-intensive games without missing a beat. The Nvidia GeForce GTX 1070 graphics cards deliver the incredible speed and power of NVIDIA Pascal – most advanced gaming GPU architecture ever created. This is the ultimate gaming platform. #GameReady.
THE WORLD'S MOST ADVANCED GAMING GPU ARCHITECTURE
GeForce GTX 10 Series graphics cards are powered by Pascal architecture to deliver up to 3X the performance of previous-generation graphics cards. Furthermore, they give you innovative new gaming technologies and breakthrough VR experiences. Get up to 3x the performance of previous architectures in addition to the latest VR technologies.
Pascal-powered graphics cards give you superior performance and also power efficiency. Ultra-fast FinFET and supporting DirectX™ 12 features to deliver the fastest, smoothest, most power-efficient gaming experiences. GeForce GTX 1080, the flagship Pascal GPU, also features high-bandwidth GDDR5X technologies for incredible gaming experiences.
The Nvidia GeForce GTX 1070 has twice the memory of the previous Maxwell based 970 and furthermore has a much higher clock speed giving the 1070 up to 3x the performance.
Key Features
The Nvidia GeForce GTX 1070 8GB supports, CUDA, 3D Vision, PhysX, NVIDIA G-SYNC, Virtual Reality, DirectX 12, Ansel, ShadowWorks in addition to SLI.
More Nvidia graphics Cards.
Nvidia GeForce GTX 1070 8GB - Specs
General
Manufacturer

GPU Architecture

Cores

Base Clock

Boost Clock

Transistor Amount

Texture Units

ROPs
Memory
Memory Size

Memory Clock Effective

Memory Interface Width

Memory Bandwidth
Technologies
DirectX® Version

G-Sync/FreeSync

OpenCL

OpenGL

Shader Model

SLI/Crossfire Ready

VR Ready

RGB Lighting

Extra Technologies

Nvidia CUDA, Nvidia 3D Vision, Nvidia PhysX, Nvidia Ansel, ShadowWorks
Connectivity
Maximum resolution

Display Port

HDMI

Dual Link DVI

Single Link DVI

VGA
Requirements
Interface

Power Connectors

PSU Recommendation

Graphics Card Power
Extra Information
Price (at release)

Weight

Released
Nvidia GeForce GTX 1070 8GB - Reviews