Nvidia GeForce RTX 2060 6GB TU104
Nvidia GeForce RTX 2060 6GB TU104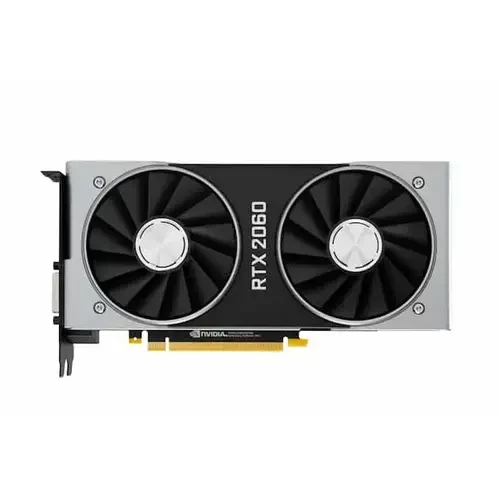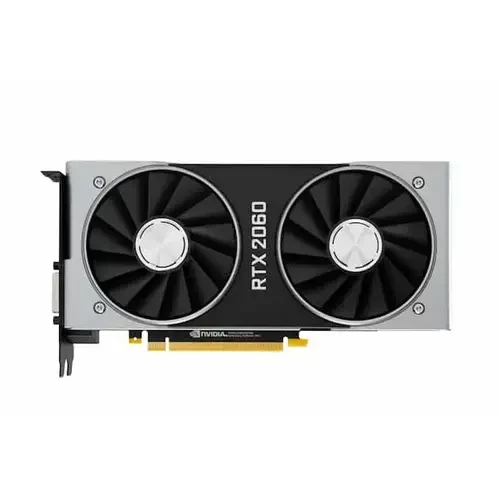 Nvidia GeForce RTX 2060 6GB TU104 Features
The Nvidia GeForce RTX 2060 6GB TU104 features Turing 12nm architecture with 1920 CUDA Cores. It has a base clock of 1365 MHz as well as a boost clock of 1680 MHz. There are 13.6 Billion transistors, 120 Texture Units and additionally 48 ROPs. The memory powering this card is 6 GB of GDDR6 memory which is clocked at 14000 MHz effective. The memory interface width is 192-bit and it has a memory bandwidth of 336 GB/s.
The Nvidia GeForce RTX 2060 6GB TU104 is a desktop graphics card in the GeForce 20 series with a die size of 545 mm². The codename is TU104-150-KC-A1 and the fabrication process uses TSMC 12nm. The amount of ray tracing cores is 30 in addition to 240 tensor cores. The amount of L2 cache comes in at 3MB.
The theoretical performance is based on the clock speed, cores and the floating point operations per clock cycle. 12.9024 TFLOPS is the half precision FP16 performance, single precision FP32 performance is 6.4512 TFLOPS and 0.2016 TFLOPS is the double precision FP64 performance. The floating point operations per clock cycle come in at 4 for half precision FP16, for single precision it comes in at 2 and for double precision FP64 it is 1/16. The texture fillrate is 201.6 GT/s and the pixel fillrate is 80.64 GP/s.
In terms of technologies on this card, there is DirectX 12, G-Sync, Open CL 1.2, OpenGL 4.6 and also Shader Model 6.5. This card is VR Ready according to Nvidia. Furthermore, there are extra technologies which include Real-Time Ray Tracing, NVIDIA GeForce Experience, NVIDIA Ansel, NVIDIA Highlights, Game Ready Drivers, Microsoft DirectX 12 Ultimate, Vulkan API, HDCP 2.2, NVIDIA GPU Boost, Designed for USB Type-C and VirtualLink as well as NVIDIA Encoder (NVENC) (Turing).
The maximum digital resolution of the Nvidia GeForce RTX 2060 6GB TU104 is 7680×4320. This can be done with the I/O included which are DisplayPort 1.4a, HDMI 2.0b, Dual Link DVI-D and also USB-C. This card does not feature any single link DVI or VGA ports.
3840×2160 @ 60 Hz is the maximum HDMI resolution achievable and 7680×4320 @ 120 Hz is the maximum display port resolution.
To power this card you need 1 x 8 pin connector available. This is because the graphics card has a TGP of 160 W which requires a recommended 500 W power supply. This card comes in at 4.435" (112.6mm) x 9.0" (228.60mm) x 2-Slot. When released, on the 10th January 2020, the card retailed at $299 USD.
View more Nvidia GeForce RTX 2060 6GB TU104 variants here.
Specifications
General
| | |
| --- | --- |
| Manufacturer | Nvidia |
| Type | Desktop |
| Series | GeForce 20 |
| Variant | RTX 2060 |
| GPU Architecture | Turing |
| Code Name | TU104-150-KC-A1 |
| Fabrication Process | TSMC 12nm |
| Die Size | 545 mm² |
| Base Clock | 1365 MHz |
| Boost Clock | 1680 MHz |
| Transistor Amount | 13.6 Billion |
Cores & Texture Config
| | |
| --- | --- |
| Cores | 1920 CUDA CORES |
| Texture Units | 120 |
| ROPs | 48 |
| Ray Tracing Cores | 30 |
| Tensor Cores | 240 |
| L2 Cache | 3MB |
Memory
| | |
| --- | --- |
| Memory Size | 6GB |
| Memory Type | GDDR6 |
| Memory Clock | 1750 MHz |
| Memory Clock Effective | 14 Gbps |
| Memory Interface Width | 192-bit |
| Memory Bandwidth | 336 GB/s |
Performance
| | |
| --- | --- |
| Half Precision FP16 | 12.9024 TFLOPS |
| Single Precision FP32 | 6.4512 TFLOPS |
| Double Precision FP64 | 0.2016 TFLOPS |
Floating Point Operations Per Clock Cycle
| | |
| --- | --- |
| Half Precision FP16 | 4 |
| Single Precision FP32 | 2 |
| Double Precision FP64 | 1/16 |
Fillrate
| | |
| --- | --- |
| Texture (GT/s) | 201.6 |
| Pixel (GP/s) | 80.64 |
Technologies
| | |
| --- | --- |
| DirectX® Version | 12 |
| G-Sync/FreeSync | |
| OpenCL | 1.2 |
| OpenGL | 4.6 |
| Shader Model | 6.5 |
| Vulkan | 1.3 |
| SLI/Crossfire Ready | |
| VR Ready | |
| RGB Lighting | |
| Extra Technologies | Real-Time Ray Tracing, NVIDIA GeForce Experience, NVIDIA Ansel, NVIDIA Highlights, Game Ready Drivers, Microsoft DirectX 12 Ultimate, Vulkan API, HDCP 2.2, NVIDIA GPU Boost, Designed for USB Type-C and VirtualLink, NVIDIA Encoder (NVENC) (Turing) |
Connectivity
| | |
| --- | --- |
| Maximum resolution | 7680x4320 |
| Max HDMI Resolution | 3840x2160 @ 60 Hz |
| Max DP Resolution | 7680x4320 @ 120 Hz |
| Display Port | 1.4a x2 |
| HDMI | 2.0b x1 |
| USB-C | USB-C VirtualLink x1 |
| Dual Link DVI | DVI-D x1 |
| Single Link DVI | No |
| VGA | No |
Requirements
| | |
| --- | --- |
| Interface | PCI-E 3.0 x16 |
| Power Connectors | 1 x 8 pin |
| PSU Recommendation | 500 W |
| Graphics Card Power | 160 W |
Dimensions
| | |
| --- | --- |
| Length | 4.435" (112.6mm) |
| Width | 9.0" (228.60mm) |
| Height | 1.4" (35.5mm) |
| Slot Width | 2 Slot |
Extra Information
| | |
| --- | --- |
| Price (at release) | $299 USD |
| Weight | - |
| Released | 10 January, 2020 |
Reviews