AMD Radeon RX 6900 XT 16GB
AMD Radeon RX 6900 XT 16GB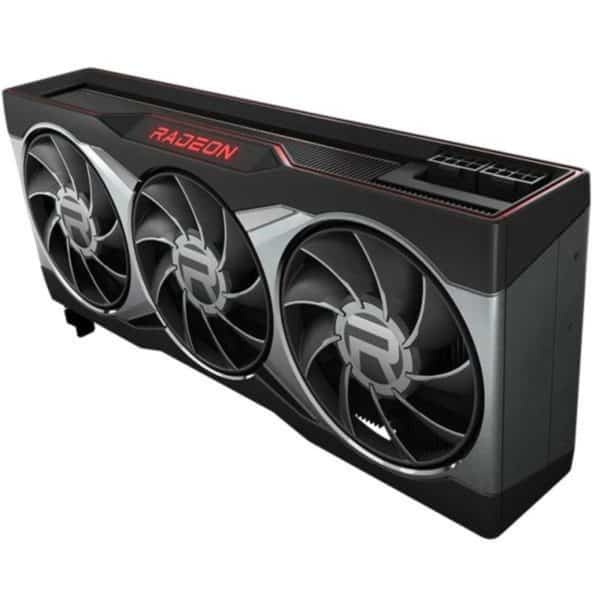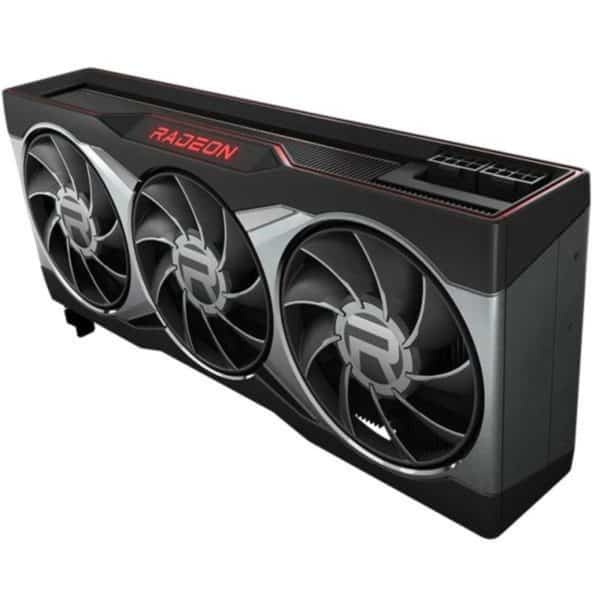 Cores

:

5120 Stream Processors

Resolutions Supported

:

3840 × 2160
AMD Radeon RX 6900 XT Features
The AMD Radeon RX 6900 XT 16GB boasts 35120 Stream Processors built on the RDNA 2.0 7nm process. It operates at a frequency of 1825 MHz, which can boost up to 2250 MHz. It features 26.8 Billion transistors, 320 texture mapping units, and 128 ROPs.
The card has 16GB GDDR6 memory which connects using a 256-bit memory interface. In addition the card has a memory clock effective of 2000 MHz coupled with a memory bandwidth 512 GB/s.
This card supports DirectX 12 Ultimate and is G-sync compatible. Moreover, it has OpenCL 1.2, OpenGL 4.6 and shader model 6.5. It is both G-Sync/FreeSync compatible and VR ready. Extra technologies include: HDMI 4K Support, 4K H264 Decode, 4K H264 Encode.
AMD Radeon RX 6900 XT's maximum resolution is 3840 × 2160. This can be achieved with the HDMI 2.1 VRR and FRL ports or the display port 1.4 with DSC.
In addition, this particular graphics card uses a PCI-Express 4.0 x16 interface and also requires 2x 8-pin. The PSU recommendation is 850 W with the power draw rates at 300 W.
The dimensions of this card is 10.5″ (267 mm)x 4.7″ (120 mm) x 2.5-Slot. Released on 18th December 2020 the graphics card was first sold for $999 USD.
View more AMD Radeon RX 6900 XT variants here.
Specs
General
| | |
| --- | --- |
| Manufacturer | AMD |
| GPU Architecture | RDNA 2.0 7nm |
| Base Clock | 1825 MHz |
| Boost Clock | 2250 MHz |
| Transistor Amount | 26.8 Billion |
| Cores | 5120 Stream Processors |
| Texture Units | 320 |
| ROPs | 128 |
Memory
| | |
| --- | --- |
| Memory Size | 16GB GDDR6 |
| Memory Clock | 16000 MHz |
| Memory Interface Width | 256-bit |
| Memory Bandwidth | 512 GB/s |
Technologies
| | |
| --- | --- |
| DirectX® Version | 12 |
| G-Sync/FreeSync | |
| OpenCL | 2.1 |
| OpenGL | 4.6 |
| Shader Model | 6.5 |
| SLI/Crossfire Ready | |
| VR Ready | |
| RGB Lighting | |
| Extra Technologies | HDMI 4K Support, 4K H264 Decode, 4K H264 Encode, |
Connectivity
| | |
| --- | --- |
| Maximum resolution | 3840 × 2160 |
| Display Port | 1.4 with DSC |
| HDMI | HDMI 2.1 VRR and FRL |
| USB-C | Yes |
| Dual Link DVI | No |
| Single Link DVI | No |
| VGA | No |
Requirements
| | |
| --- | --- |
| Interface | PCIe 4.0 x16 |
| Power Connectors | 2x 8-pin |
| PSU Recommendation | 850 W |
| Graphics Card Power | 300 W |
Dimensions
| | |
| --- | --- |
| Length | 10.5" (26.7 cm) |
| Width | 2.5 Slot |
| Height | 4.72" (12 cm) |
Extra Information
| | |
| --- | --- |
| Price (at release) | $999 |
| Weight | 1.1kg |
| Released | 08 December, 2020 |
Reviews