Nvidia GeForce RTX 3050 8GB GA107
Nvidia GeForce RTX 3050 8GB GA107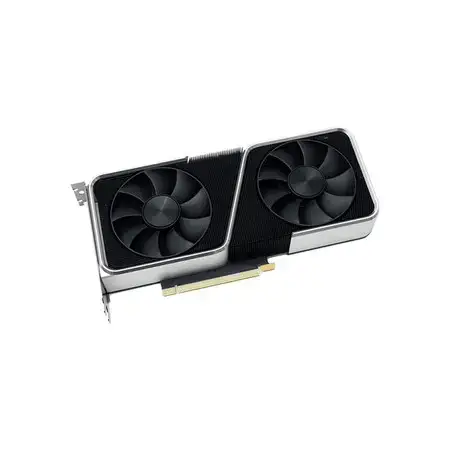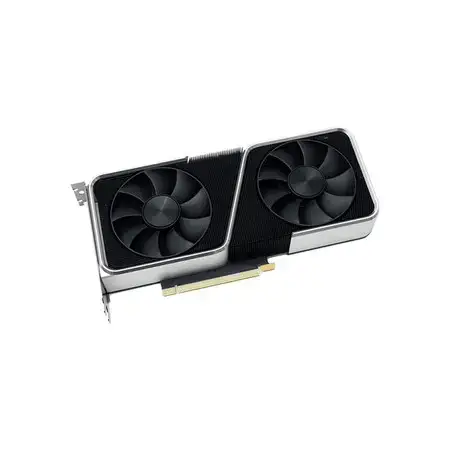 Nvidia GeForce RTX 3050 8GB GA107 Specs
The Nvidia GeForce RTX 3050 8GB GA107 card features Ampere 8nm technology. It has 2560 Cuda Cores with a base clock of 1.55 GHz as well as a boost clock of 1.78 GHz. There are 80 texture units and 32 ROPs.
The Nvidia GeForce RTX 3050 8GB GA107 is a desktop GPU from the GeForce 30 series using a die size of 200 mm². Its codename is GA107-150-A1 and the fabrication process is Samsung 8nm. The amount of ray tracing cores is 20 as well as 80 tensor cores. The amount of L2 cache comes in at 2MB.
For memory, the Nvidia GeForce RTX 3050 8GB GA107 has 8GB of fast GDDR6 memory running at an effective memory clock of 14000 MHz. The memory is connected with a bandwidth of 224 GB/s and an interface width of 128-bit.
The theoretical performance is based on the clock speed, cores and the floating point operations per clock cycle. 9.09824 TFLOPS is the half precision FP16 performance, 9.09824 TFLOPS is the single precision FP32 performance and 0.14216 TFLOPS is the double precision FP64 performance. The FP16 half precision floating point operations per clock cycle is 2, for single precision FP32 it is 2 and for double precision FP64 it is 1/32. The texture fillrate is 142.16 GT/s and the pixel fillrate is 56.864 GP/s.
There are many technologies featured on the Nvidia GeForce RTX 3050 8GB GA107, including DirectX 12 Ultimate and OpenCL 3.0. It has G-Sync support, OpenGL 4.6 and Shader Model 6.6. The extra technologies include: Ray Tracing Cores, Tensor Cores, NVIDIA DLSS, NVIDIA Reflex, NVIDIA Broadcast, PCI Express Gen 4, Resizable BAR, NVIDIA GeForce Experience, NVIDIA Ansel, NVIDIA FreeStyle, NVIDIA ShadowPlay, NVIDIA Highlights, Game Ready Drivers, NVIDIA Studio Drivers, NVIDIA Omniverse, NVIDIA GPU Boost, Vulkan RT API, NVIDIA Encoder (NVENC) 7th Generation, NVIDIA Decoder (NVDEC) 5th Generation and CUDA Capability 8.6.
The maximum digital resolution of the Nvidia GeForce RTX 3050 8GB GA107 is 7680×4320. This can be achieved with the DisplayPort 1.4a connectors. It also has HDMI 2.1 for connecting other displays. There is no USB-C, DVI or VGA. In order to power this card you will require 1 x 8 pin PSU connector. You can view other graphics cards with 1 x 8 pin power connector here. Your PSU will need to be at least 550 W to power this card which runs at 115 W. A PCI-e slot is required and for optimal performance you will need at least a PCI-e 4.0 x8. This is a 2 Slot card.
7680×4320 is the maximum HDMI resolution achievable and 7680×4320 is the maximum display port resolution.
At release on the 27th January 2022, this card was $249 USD. View more RTX 3050 variants here.
Specifications
General
| | |
| --- | --- |
| Manufacturer | Nvidia |
| Type | Desktop |
| Series | GeForce 30 |
| Variant | RTX 3050 |
| GPU Architecture | Ampere |
| Code Name | GA107-150-A1 |
| Fabrication Process | Samsung 8nm |
| Die Size | 200 mm² |
| Base Clock | 1552 MHz |
| Boost Clock | 1777 MHz |
| Transistor Amount | ? |
Cores & Texture Config
| | |
| --- | --- |
| Cores | 2560 CUDA CORES |
| Texture Units | 80 |
| ROPs | 32 |
| Ray Tracing Cores | 20 |
| Tensor Cores | 80 |
| L2 Cache | 2MB |
Memory
| | |
| --- | --- |
| Memory Size | 8GB |
| Memory Type | GDDR6 |
| Memory Clock | 1750 MHz |
| Memory Clock Effective | 14 Gbps |
| Memory Interface Width | 128-bit |
| Memory Bandwidth | 224 GB/s |
Performance
| | |
| --- | --- |
| Half Precision FP16 | 9.09824 TFLOPS |
| Single Precision FP32 | 9.09824 TFLOPS |
| Double Precision FP64 | 0.14216 TFLOPS |
Floating Point Operations Per Clock Cycle
| | |
| --- | --- |
| Half Precision FP16 | 2 |
| Single Precision FP32 | 2 |
| Double Precision FP64 | 1/32 |
Fillrate
| | |
| --- | --- |
| Texture (GT/s) | 142.16 |
| Pixel (GP/s) | 56.864 |
Technologies
| | |
| --- | --- |
| DirectX® Version | 12 |
| G-Sync/FreeSync | |
| OpenCL | 3.0 |
| OpenGL | 4.6 |
| Shader Model | 6.6 |
| Vulkan | 1.3 |
| SLI/Crossfire Ready | |
| VR Ready | |
| RGB Lighting | |
| Extra Technologies | Ray Tracing Cores, Tensor Cores, NVIDIA DLSS, NVIDIA Reflex, NVIDIA Broadcast, PCI Express Gen 4, Resizable BAR, NVIDIA GeForce Experience, NVIDIA Ansel, NVIDIA FreeStyle, NVIDIA ShadowPlay, NVIDIA Highlights, Game Ready Drivers, NVIDIA Studio Drivers, NVIDIA Omniverse, NVIDIA GPU Boost, Vulkan RT API, NVIDIA Encoder (NVENC) 7th Generation, NVIDIA Decoder (NVDEC) 5th Generation, CUDA Capability 8.6 |
Connectivity
| | |
| --- | --- |
| Maximum resolution | 7680x4320 |
| Max HDMI Resolution | 7680x4320 |
| Max DP Resolution | 7680x4320 |
| Display Port | 1.4a |
| HDMI | 2.1 |
| USB-C | No |
| Dual Link DVI | No |
| Single Link DVI | No |
| VGA | No |
Requirements
| | |
| --- | --- |
| Interface | PCIe 4.0 x8 |
| Power Connectors | 1 x 8 pin |
| PSU Recommendation | 550 W |
| Graphics Card Power | 115 W |
Dimensions
| | |
| --- | --- |
| Length | 24 cm (9.45") |
| Width | 11 cm (4.33") |
| Height | 3.5 cm (1.38") |
| Slot Width | 2 Slot |
Extra Information
| | |
| --- | --- |
| Price (at release) | $249 USD |
| Weight | - |
| Released | 16 December, 2022 |
Reviews