AMD Radeon RX 6400 4GB
AMD Radeon RX 6400 4GB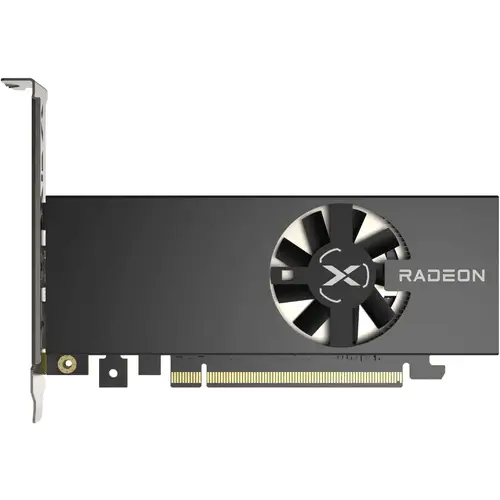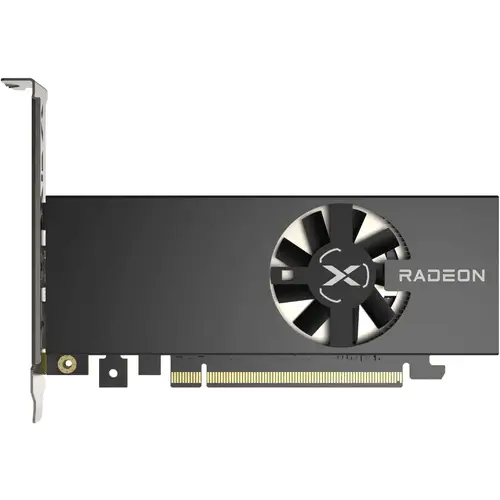 Cores

:

768 Stream Processors

Resolutions Supported

:

7680×4320
AMD Radeon RX 6400 4GB Specs
The AMD Radeon RX 6400 4GB is based on the RDNA 2.0 6nm architecture with 768 stream processors. The base clock is 1923 MHz and it goes up to 2039 MHz for the game clock. The boost clock comes in at 2321 MHz. There are 5.4 billion transistors as well as 48 texture units and 32 ROPs.
For memory, the AMD Radeon RX 6400 4GB has 4GB of GDDR6 video memory clocked at 16000 MHz effective. The memory interface width is 64-bit and the memory bandwidth is 128 GB/s.
The AMD Radeon RX 6400 runs DirectX version 12 and has AMD FreeSync. There is OpenCL 2.2, OpenGL 4.6 and Shader Model 6.7. Additionally there is also AMD Software: Adrenalin Edition, AMD FidelityFX Super Resolution , AMD Link, AMD Noise Suppression, AMD Radeon Super Resolution, AMD Smart Access Memory, VSR (4K), AMD Privacy View, AMD Radeon Boost, AMD Radeon Anti-Lag, AMD Radeon Image Sharpening, AMD Radeon Chill, TrueAudio Next and The Vulkan API. There is no Crossfire on the AMD Radeon RX 6400 and it is not VR ready.
The maximum resolution of this card is 7680×4320. For display output connectors, there is Display Port 1.4a and HDMI 2.1. There is no USB-c, DVI or VGA. The PCI-e interface on the AMD Radeon RX 6400 uses PCI-e 4.0 x4. No power connectors are required for this card as it uses just 53 W of power. AMD recommends a 350 W PSU.
This is a single slot card and is can also come in low profile variants. At release on the 19 January 2022, this card retailed for $159 USD. View more AMD Radeon RX 6400 variants here.
Specs
General
| | |
| --- | --- |
| Manufacturer | AMD |
| GPU Architecture | RDNA 2.0 6nm |
| Base Clock | 1923 MHz (2039 MHz Game Clock) |
| Boost Clock | 2321 MHz |
| Transistor Amount | 5.4 billion |
| Cores | 768 Stream Processors |
| Texture Units | 48 |
| ROPs | 32 |
Memory
| | |
| --- | --- |
| Memory Size | 4GB GDDR6 |
| Memory Clock | 16000 MHz |
| Memory Interface Width | 64-bit |
| Memory Bandwidth | 128 GB/s |
Technologies
| | |
| --- | --- |
| DirectX® Version | 12 |
| G-Sync/FreeSync | |
| OpenCL | 2.2 |
| OpenGL | 4.6 |
| Shader Model | 6.7 |
| SLI/Crossfire Ready | |
| VR Ready | |
| RGB Lighting | |
| Extra Technologies | AMD Software: Adrenalin Edition, AMD FidelityFX Super Resolution , AMD Link, AMD Noise Suppression, AMD Radeon Super Resolution, AMD Smart Access Memory, VSR (4K), AMD Privacy View, AMD Radeon Boost, AMD Radeon Anti-Lag, AMD Radeon Image Sharpening, AMD Radeon Chill, TrueAudio Next, The Vulkan API |
Connectivity
| | |
| --- | --- |
| Maximum resolution | 7680×4320 |
| Display Port | 1.4a |
| HDMI | 2.1 |
| USB-C | No |
| Dual Link DVI | No |
| Single Link DVI | No |
| VGA | No |
Requirements
| | |
| --- | --- |
| Interface | PCIe 4.0 x 4 |
| Power Connectors | None |
| PSU Recommendation | 350 W |
| Graphics Card Power | 53 W |
Dimensions
| | |
| --- | --- |
| Length | - |
| Width | 1 Slot |
| Height | - |
Extra Information
| | |
| --- | --- |
| Price (at release) | $159 USD |
| Weight | - |
| Released | 19 January, 2022 |
Reviews