AMD Radeon RX 5600 6GB
AMD Radeon RX 5600 6GB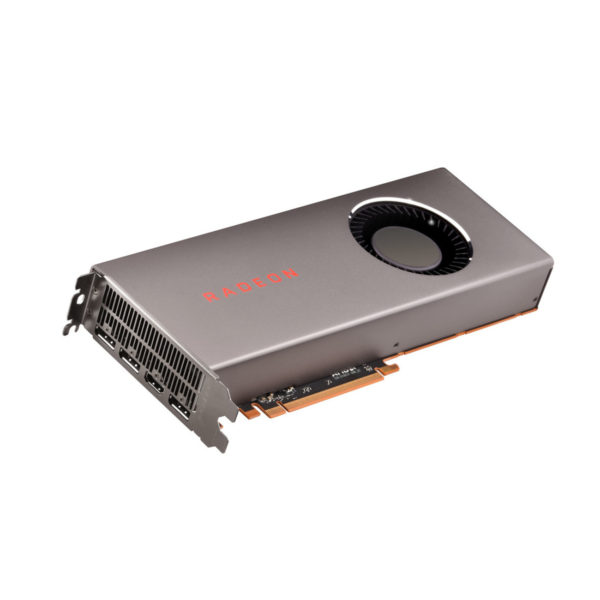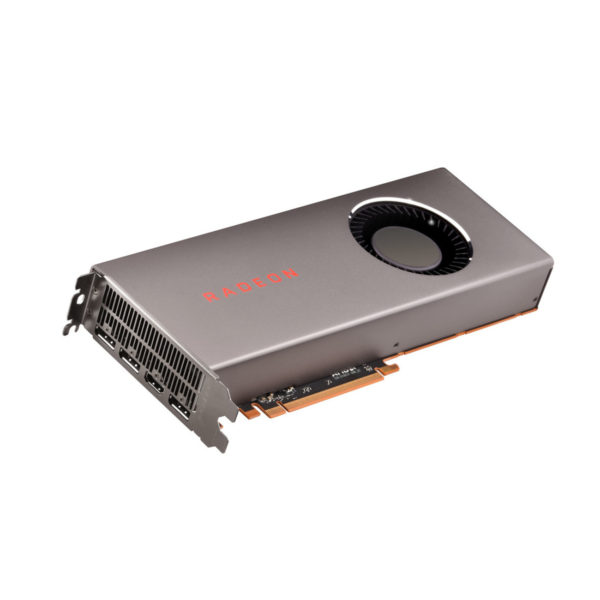 Cores

:

2304 Stream Processors

Resolutions Supported

:

7680 x 4320
AMD Radeon RX 5600 Features
The AMD Radeon RX 5600 6GB is based on RDNA 1.0 7nm Architecture and has 2048 Stream Processors. It also has a base clock of 1375 MHz coupled with a boost clock of 1560 MHz. Inside the AMD Raedon RX 570 there are 10.3 billion transistors, 128 texture units and a further 64 ROPs.
This particular card has a memory size of 6GB GDDR6 running at a memory clock effective of 1500 MHz. Moreover, the memory interface width is 192-bit and the memory bandwidth is 288 GB/s.
AMD's Radeon RX 5600 Has a DirectX Version of 12 and is FreeSync compatible. Furthermore, it supports OpenCL 2.1 and OpenGL 4.6 and shader model 6.5. It is not crossfire nor does it support RGB lighting but is VR ready. Extra technologies include: 4K H264 Decode, 4K H264 Encode, HDMI 4K Support, AV1 Decode.
The maximum digital resolution that is supported is 7680 x 4320. As for the I/O ports, there is display port 1.4 with DSC as well as HDMI 4K60. However, the AMD Radeon RX 5600 does not support USB-C, Dual link DVI nor VGA. The card requires a 1x 8-pin and has a PSU recommendation of 550 W along with an interface of PCI Express 4.0 x16. It also has a graphics card power of 150 W.
Its dimensions are 10.5″ (267 mm) x 2 Slot x 4.7″ (120 mm). Released on the 21st January 2020, it had a starting price of $279 USD.
View more variants of the AMD Radeon RX 5600 here.
Specifications
General
| | |
| --- | --- |
| Manufacturer | AMD |
| Type | Desktop |
| Series | Radeon RX 5000 |
| Variant | RX 5600 |
| GPU Architecture | RDNA 1.0 |
| Code Name | Navi 10 |
| Fabrication Process | TSMC 7nm |
| Die Size | 251 mm² |
| Base Clock | 1375 MHz |
| Boost Clock | 1560 MHz |
| Transistor Amount | 10.3 Billion |
Cores & Texture Config
| | |
| --- | --- |
| Cores | 2048 Stream Processors |
| Texture Units | 128 |
| ROPs | 64 |
| Ray Tracing Cores | - |
| Tensor Cores | - |
| Compute Units | 32 |
| L2 Cache | 3MB |
| Infinity Cache | - |
Memory
| | |
| --- | --- |
| Memory Size | 6GB |
| Memory Type | GDDR6 |
| Memory Clock | 1500 MHz |
| Memory Clock Effective | 12 Gbps |
| Memory Interface Width | 192-bit |
| Memory Bandwidth | 288 GB/s |
Performance
| | |
| --- | --- |
| Half Precision FP16 | 12.77952 TFLOPS |
| Single Precision FP32 | 6.38976 TFLOPS |
| Double Precision FP64 | 0.39936 TFLOPS |
Floating Point Operations Per Clock Cycle
| | |
| --- | --- |
| Half Precision FP16 | 4 |
| Single Precision FP32 | 2 |
| Double Precision FP64 | 1/8 |
Fillrate
| | |
| --- | --- |
| Texture (GT/s) | 199.68 |
| Pixel (GP/s) | 99.84 |
Technologies
| | |
| --- | --- |
| DirectX® Version | 12 |
| G-Sync/FreeSync | |
| OpenCL | 2.1 |
| OpenGL | 4.6 |
| Shader Model | 6.5 |
| Vulkan | 1.3 |
| SLI/Crossfire Ready | |
| VR Ready | |
| RGB Lighting | |
| Extra Technologies | 4K H264 Decode, 4K H264 Encode, HDMI 4K Support, AV1 Decode |
Connectivity
| | |
| --- | --- |
| Maximum resolution | 7680 x 4320 |
| Max HDMI Resolution | 4096 x 3112 |
| Max DP Resolution | 7680 x 4320 |
| Display Port | 1.4 with DSC |
| HDMI | 4K60 |
| USB-C | No |
| Dual Link DVI | No |
| Single Link DVI | No |
| VGA | No |
Requirements
| | |
| --- | --- |
| Interface | PCIe 4.0 x16 |
| Power Connectors | 1x 8-pin |
| PSU Recommendation | 550 W |
| Graphics Card Power | 150 W |
Dimensions
| | |
| --- | --- |
| Length | 10.5" (267 mm) |
| Width | 4.7" (120 mm) |
| Height | 2 Slot |
| Slot Width | 2 Slot |
Extra Information
| | |
| --- | --- |
| Price (at release) | $279 USD |
| Weight | 1.1kg |
| Released | 21 January, 2020 |
Reviews