Best Graphics Cards for Valve Index
Gaming has taken a great leap in the past decade and is now a mainstream industry. It is earning more than the movie industry and music industry combined! Because of this fact, the technology around gaming is rapidly developing. Various generations of consoles and graphic cards along with CPUs are introduced very hastily than ever before. Gaming has evolved focusing on better graphics and user-friendly peripherals over the past few years. Currently it has more than 8 platforms to play in. Starting with simple Gameboys in the past. They are coming through various generations of other consoles like PS4 and Xbox, PC and ultimately peaking at Virtual Reality. This links us to the article which will be the Best Graphics Cards for Valve Index.
In the past, people were hyped about VR as much as they did about flying-cars. Since the 1990s people were predicting and were enthusiastic about affordable VR until it became an actual reality in the 2010s. Oculus VR started the current race in VR technology and companies such as HTC and Valve joined later on to keep up with the production of affordable VR headsets. The latest release in the VR race is Valve's Valve Index released on June, 2019. The VR headset isn't only enough for the experience but you should also have a Console or a PC to render the images. In this article, the Best Graphics Cards for Valve Index we list cards to facilitate a smooth VR experience be discussed in detail.
Check out our other guides on VR:
Valve Index is arguably the best VR headset for the value right now on the market. It is only $499 (not including base stations and controllers) and is slightly superior than everyone's go-to VR headset, HTC Vive Pro, which costs $799. When comparing them, Valve Index is better in the resolution and the display's refresh rate. While Vive Pro has only a resolution of 2160×1200 (1080×1200 per eye) Valve Index renders images in a higher resolution of 2880×1600 (1440×1600 per eye). The Index also has a higher refresh rate of 120hz default, which can be increased up to 144hz while Vive has a 90Hz max default. Considering these numbers, it's pretty obvious that the Valve Index also need a beefy gaming rig to work smoothly.
Valve has officially announced the NVIDIA GeForce GTX 970 or AMD RX480 to be the minimum requirement to get the optimal performance where as the GTX 70 and upper models come under higher end graphic cards. So, if you're wishing to buy a Valve Index you will also have to have a high-end PC so it's important that you check if your graphic card is powerful enough or not. When buying Valve Index graphics cards, there are many factors to be taken into consideration. The most famous and the leading graphics cards producers, NVIDIA and AMD are in their own race against each other and they are in competition to come up with new technology and prices which is actually a good thing for the consumers.
Graphics card models and features
With the heating competition between NVIDIA and AMD, the past decade has been a revolutionary one for the gamers. The war has been just getting hotter over time where many innovative technologies have been introduced in the past few years. New generations and models are introduced frequently than ever. So, when buying a Valve Index graphic card, you should be also considering the features it has other than VRAM and speed.
NVIDIA promises to give a more immersive VR experience with their pioneering features like Real-Time Raytracing and AI which simulates the environment precisely giving attention to graphics, audio and behavior. NVIDIA's Variable Rate Shading (VRS) feature allows the graphic card to use its maximum power and Single Pass Multi-view enhances the details by drawing geometry only once, then simultaneously projecting it to both right-eye and left-eye views creating more detailed environments. Likewise, AMD also brands their VR technology as LiquidVR which gives a sense of presence to the user.
So, when selecting a graphic card for your VR needs, the first thing anyone would consider is the price. If you're looking for a cheaper card your choices are to either go to an older NVIDIA card as recommended as the baseline or to a mind-blowingly cheaper, yet powerful AMD card. Baseline cards will perform well for an extent when they'll struggle to deliver playable performance in the future of VR to come.
According to users, NVIDIA cards' graphics and ray-tracing tech puts them ahead in the market while AMD also never fails to impress the audience with their price ranges. But if you're a cash-stacked buyer, you can go for a faster higher-end card which will not fail to amaze you in games currently available and in games yet to come. Back in 2018, NVIDIA's GeForce GTX 1080 and 1080ti, and AMD's Radeon RX Vega 56 and Vega 64 were what everyone was recommending. It's been a whole year and the time has made quite a difference in the market too. The older 10-series cards are using pascal architecture whereas the newer 16 and 20 series use Turing with ray tracing. So selecting a card isn't as easy as it seems.
These are the entry level graphics cards to get you started into the world of VR using the Valve Index.
Sapphire Radeon Pulse RX 580 8GB GDDR5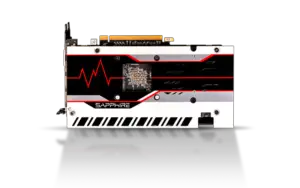 If you're looking for an entry level card, AMD RX 580 will do you just fine. The card is quite old but the performance is pretty solid for 1080p gaming. This card falls right under the recommended GPU card for most VR setups. 
The card also come's in 4GB and 8GB models but the 4GB model will be just fine if you just want to experiment enjoying simpler VR experiences. The card only costs under $300 and is a great value for the price as well.
| Positive | Negative |
| --- | --- |
| Great performance | Can get hot |
| Good cooling system | requires quite a bit of power |
| 4gb and 8gb variants | |
| 1440p gaming | |
| overclocked speeds | |
| AMD technologies, LiquidVR etc | |
ASUS GeForce GTX 1060 6GB Dual-Fan OC
The NVIDIA's entry level card can be considered to be the GeForce GTX 1060. This card is from the previous generation but still manages to run most of the latest games smoothly in 1080p. This card also has 2 variants in 3 GB and 6 GB and the price starts from $300.
Positive
Negative
3GB and 6GB variants
Some reviewers complain it gets too hot and is very noisy at faster-paced use
It features auto-extreme manufacturing technologies delivering premium quality and reliability
It works okay at 1080 p gaming at 50 to 60 frames per second (fps), however, anything faster, there's a
lag in gameplay
It's made with aerospace-grade, super alloy power II components, so it runs faster and lasts longer to
similarly priced graphics cards
It's VR-ready and features Dual-HDMI ports so you can simultaneously connect VR-devices to the
graphics card
A minor GPU tweak (from the previous model) ensures monitoring performance and streaming is
better than previous graphics cards
In this section, we will share some of the mid range cards which are great for general use and probably the best for the average user.
GIGABYTE GeForce GTX 1660 Ti Windforce OC 6GB
NVIDIA GeForce GTX 1660 variants and old generation high-end can be put into this category. GTX 1660s are great value for the price as these cards can run 1080p at higher framerates and support higher refresh rates. So, when getting one for the Valve Index won't make you regret as the card performs really well to meet the Valve Index's high refresh rates. These cards come with 6 GB VRAM and is commonly used in esports gaming to get higher refresh rates. And the best part is you can get one in just under $350!
| Positive | Negative |
| --- | --- |
| Overclocked | Not great 4k gaming |
| GDDR6 memory | only 6gb |
| Lots of I/O | |
| Good price to performance | |
| Only one 8 pin connector required | |
| Turing Architecture | |
ASUS GeForce GTX 1080 8GB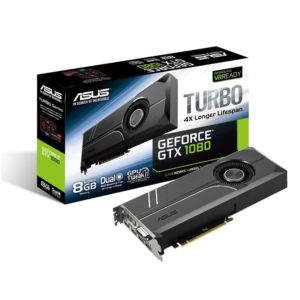 The higher-end last gen's cards such as GTX 1070, GTX 1080 are also solid options for VR. These cards can be even superior than the current gen GTX 1660s but the older architecture limits its chance of being at the higher end Valve Index graphics cards category. Cards like GTX 1080 and 1070 can render images in higher resolutions. However, they mostly fail on higher refresh rates and frame rates. Additionally, they also do not support cutting edge current gen technologies like ray-tracing. This may not give you the best VR performance possible.
| Positive | Negative |
| --- | --- |
| Sleak design | Older card |
| Great Performance | Single fan |
| Dual ball bearing fan for longer lifespan | VR Friendly ports |
| Cusomizable backlit logo | Fairly high power consumption |
| GPU Tweak | |
| 8GB GDDR5X memory | |
XFX RX 5700 Xt Thicc II 8GB GDDR6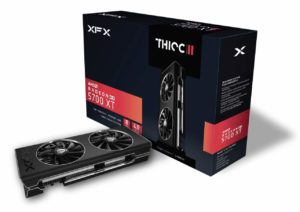 On the other side of the competition, AMD Radeon RX 5700 XT is also a tough contestant under this category. It's also able to perform very well in 1440p resolution at near 60fps. Additionally, Radeon's image sharpening software gives a great boost in the quality of the images as well. The only downside of this card is that it can get really noisy at times. However, otherwise it's a great value for the money (around $399).
| Positive | Negative |
| --- | --- |
| Overclocked | Fairly high power |
| 8GB GDDR6 Memory | Can get hot |
| 14 Gbps memory speed | Can get loud |
| Zero DB Load sensing fans | |
| Good I/O for VR | |
| Ultra HD support 8K @60Hz | |
| AMD Technologies Liquid VR Etc | |
| Good Warranty | |
In this section, we suggest some of the best graphics cards for valve index. These cards can be quite expensive and are enthusiast grade, ideal for heavy VR users.
GIGABYTE GeForce RTX 2070 Super Gaming OC 8GB – One of the Best Graphics Cards for Valve Index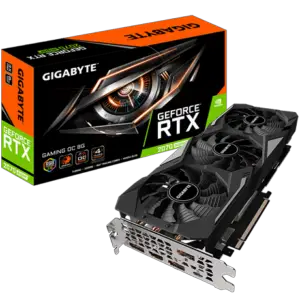 All the above-mentioned cards can do an excellent job in VR but still the experience can be improved further. Nvidia's GeForce RTX 20 series is the current best line of cards in the market. The iconic feature of this line of GPUs is that they support NVIDIA's latest technologies like real-time raytracing. Furthermore, there are other advance shading and audio technologies. Out of the RTX cards out there, RTX 2070 SUPER is an iconic, trending card available right now.
Though there are superior models, RTX 2070 SUPER still manages to pull out ahead in the competition as it can sometimes outperform its elders. The card can smoothly render up to 4K (UHD) resolution at 60fps without any stutters and 1440p (QHD) at high refresh rates under max graphics settings. Though there are more powerful cards of the series, this card simply out-performs the rest comparing its price of just $500, making it the best performing card for VR up to date. Gigabyte's aorus engine utility can help you customize your vr gaming experience.
| Positive | Negative |
| --- | --- |
| 3 fans | Long Card |
| RGB Lights | Can get loud |
| Power indicator lights | 4k gaming is good but not the best |
| Newest architecture (Turing) | |
| GDDR6 | |
GIGABYTE GeForce RTX 2080 SUPER GAMING 8GB – One of the Best Graphics Cards for Valve Index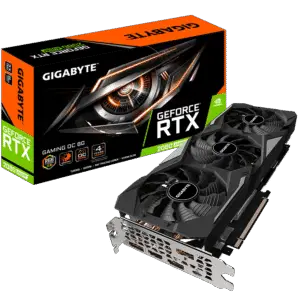 A step up from the RTX 2070 is the GIGABYTE GeForce RTX 2080 SUPER GAMING 8GB. It features Turing architecture and amazing performance. There are not many cards currently better than the RTX 2080 in terms of performance. This card, when using VR, can provide the max 144Hz refresh rate and max resolution of the Valve index. This would be a great choice for anyone looking to upgrade there card for the Valve Index.
Three WindForce fans cool this card making sure the card stays cool even in the longest VR gaming sessions. Furthermore direct contact with the GPU and heat pipes is made to ensure this card stays cool.
Gigabytes RTX 2080 features RGB Fusion 2.0 so you can customize the colors to suit your PC design needs.
| Positive | Negative |
| --- | --- |
| Perfect for 4K/1440P gaming | It offers the same 4K performance as the GTX 1080 Ti. |
| Great Build Quality | |
| Great design | |
| WindForce Cooling System | |
| RGB Fusion 2.0 | |
Gigabyte AORUS GeForce RTX 2080 Ti Xtreme 11G – One of the Best Graphics Cards for Valve Index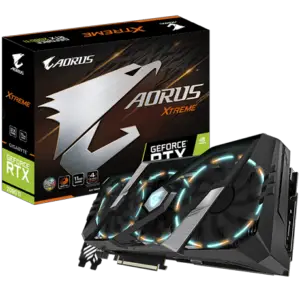 One of the best cards currently out there is the Gigabyte AORUS GeForce RTX 2080 Ti Xtreme 11G it can handle everything you can throw at it currently. 4k games run great. When using the valve index you can have everything set to the highest settings at the highest refresh rate and still get great FPS.
Three WindForce fans cool this card making sure the card stays cool even in the longest VR gaming sessions. Furthermore direct contact with the GPU and heat pipes is made to ensure this card stays cool. This is one of the best cooling systems you can currently get.
With 7 outputs you can connect many displays and still have your VR Headset connected. There is USB-C, Display port and HDMI outputs.
Gigabytes RTX 2080 Ti features RGB Fusion 2.0 and lights along all the fans. This is great to match a pc design.
| Positive | Negative |
| --- | --- |
| Great performance | Expensive |
| Turing architecture | Long Card |
| RGB Lights around all fans | Consumes a fair amount of power |
| Overclocked | |
| 4k gaming | |
| 11GB GDDR6 | |
When buying the Valve Index graphic card you need, there's a couple of key factors to consider.
Your budget and the value the card is to you
 Technologies
The brands
The models on offer
The time period you're planning to use it for
Considering the above factors, you should decide if you're going to use the card long term or short term. Furthermore if you're giving value to your money. So if you're looking for a solid but simple and a wallet-friendly graphics card, the ideal card would be the NVIDIA GeForce GTX 1660 SUPER. This card will do fine with Valve Index's default refresh rate of 120Hz. 
It would be great value for your money. However, if you have some extra cash to throw in, the recommendation for the best card would be the RTX 2070 SUPER. It will be the ideal card for the ultimate experience with the Valve Index. This is due to it fitting in with the high refresh rate 1440p rendering as well as additional key features. These include hardware support to raytracing, giving great value for the price tag. Check our buyers guides for graphics cards here.