Which VR Headset Should You Get?
There are a vast amount of headsets now available on the market. However not all these VR headsets are made equally. Some require powerful gaming computers to run and some require just your phone. In this article we will list some of the best VR headsets you can consider buying.
VR Headsets That require a gaming PC.
Here are some VR Headsets that require a gaming PC to run. These VR headsets often cost more and are split up into three main categories – HTC Vive, Oculus Rift, in addition to Windows Mixed Reality which is a bit different to the other two (more on this down below). All of these headsets require different specs in their recommended specs (shown below).
HTC Vive – Best Experience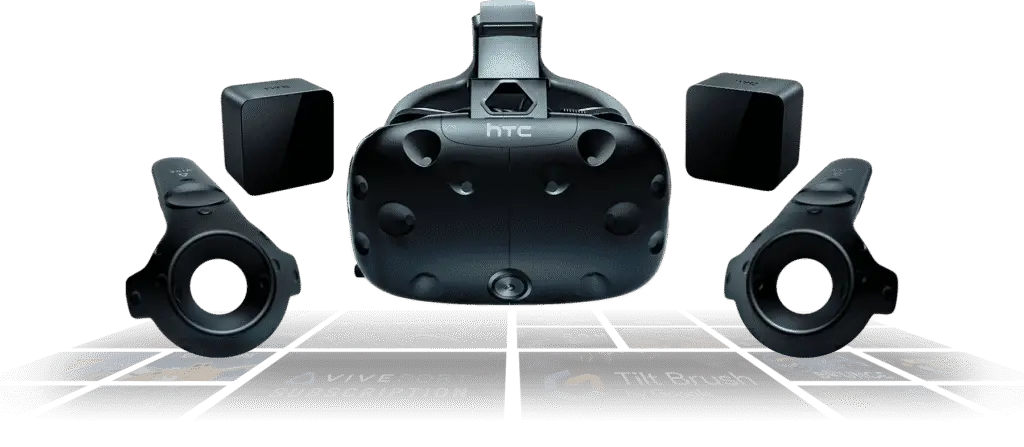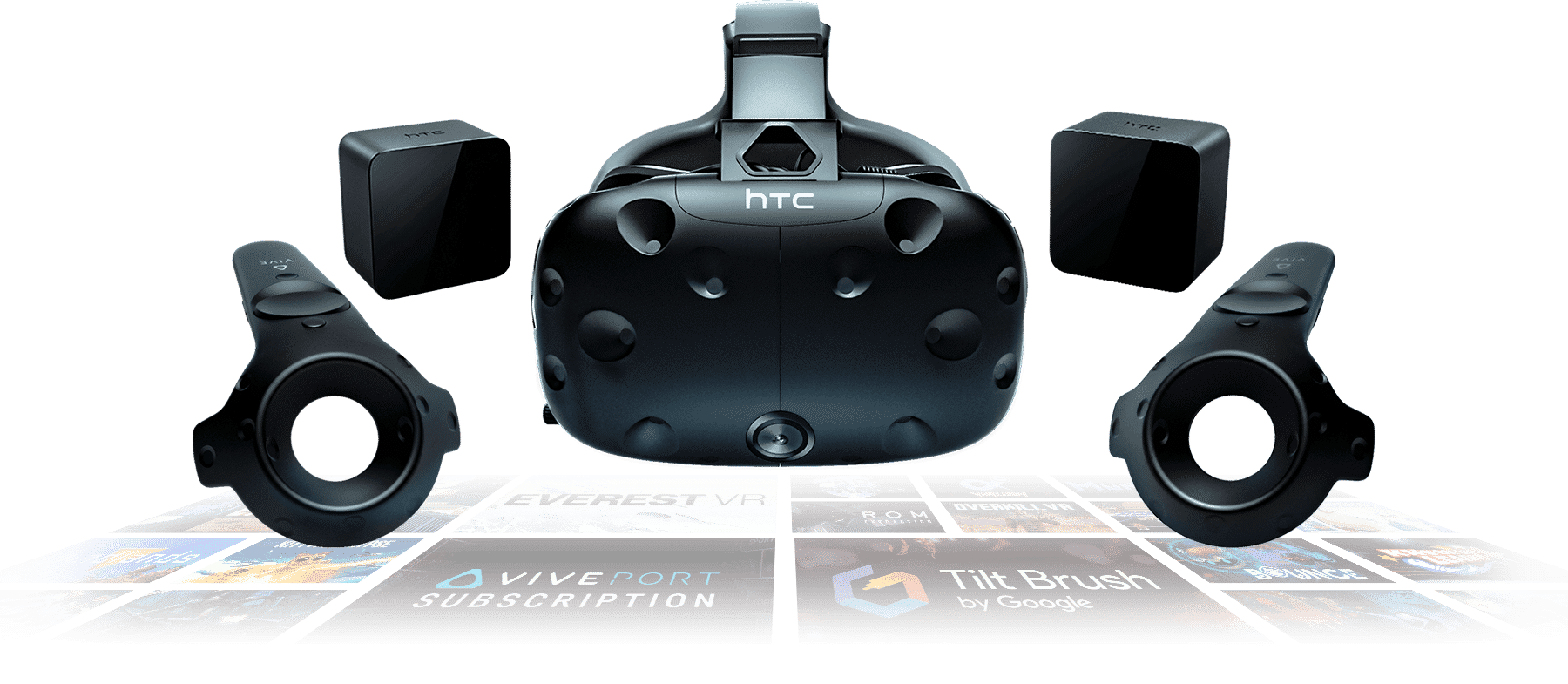 Probably one of the best VR headsets on this list, the HTC Vive offers full room scale VR. This is done using the dual controllers in addition to the base station which act as sensors for excellent hand tracking in a 360 degree play area. With a 1080 x 1200 AMOLED display per eye, the VR has amazing immersion with the headset.
What Games Can be Played?
The HTC Vive is powered by steam VR which gives you access to a wide variety of VR games avaiable on steam. However, Oculus only titles cannot be played unless you download some third party software.
An expensive gaming PC is required to run HTC vive. The minimum specs required according to HTC are:
Graphics card – Nvidia GeForce GTX 1060 or AMD RX 480 or better
CPU- Intel core i5-4590 or AMD FX 8350 or better
Ram – 4GB or More
USB – 1 x 2.0 or better
 Windows 7, 8.1 or 10
Mac PCs cannot run the HTC vive currently. There may be a way round this however.
The Normal Vive at £499 or $499 includes everything you need to get started. The Vive, two controllers, two sensors, earbuds, cables and accessories as well as a free trial to Viveport subscription. The subscription includes a lot of games you can play on a subscription based service.
Unlike the Oculus rift the included earbuds are not as good as oculus' attached headphones. You can however, buy a Vive deluxe audio strap (which is better than oculus' included headphones) but this will set you back £99 or $99.
The HTC Vive is the most expensive headset costing around £499 or $499. This is at the price drop which saw the price decrease from £599 or $599.
There is also the HTC Vive Pro coming in at £799 or $799 BUT this is just for the headset itself. The full set which includes the sensors and dual controllers costs £1299 or $1299. We don't recommend buying this headset unless you have a lot of money to spend on a VR headset.
Oculus Rift – Best experience for the price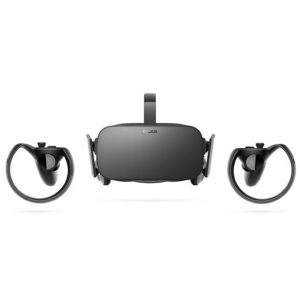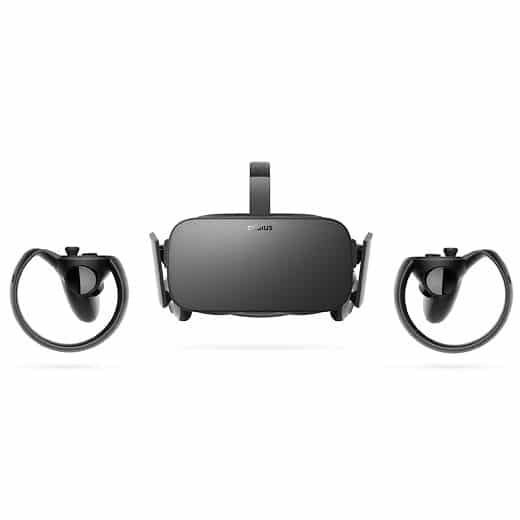 The Oculus Rift is the main original VR headset which released its development kit back in 2012. The Newest Oculus Rift release is has similar specs to that of the HTC Vive but at a cheaper price. The Oculus Rift has its own controllers called touch controllers. These have great hand tracking possibly better than the Vive's and also offers full room tracking. Room tracking is smaller however.
What Games Can be Played?
A vast amount of games can be played on the Oculus Rift. Many games are on the Oculus store some of which are exclusives. Steam VR is also supported on the Oculus Rift meaning you can play many VR games on steam. Vive only titles cannot be played.
Like the HTC Vive, a gaming PC is required for the Oculus Rift. Having said this however, the minimum PC requirements are lower than that of the Vive. Here are the required PC specs:
Minimum
Graphics Card – NVIDIA GTX 1050Ti or AMD Radeon RX 470 or greater
Alternative Graphics Card – NVIDIA GTX 960 or AMD Radeon R9 290 or greater
CPU- Intel i3-6100 or AMD Ryzen 3 1200, FX4350 or greater
Ram – 8GB or More
Video Output – Compatible HDMI 1.3 video output
USB Ports – 1x USB 3.0 port, plus 2x USB 2.0 ports
OS – Windows 10
Recommended
Graphics Card – NVIDIA GTX 1060 or AMD Radeon RX 480 or greater
Alternative Graphics Card – NVIDIA GTX 970 or AMD Radeon R9 290 or greater
CPU – Intel i5-4590 or AMD Ryzen 5 1500X or greater
Ram – 8GB or More
Video Output – Compatible HDMI 1.3 video output
USB Ports – 3x USB 3.0 ports plus 1x USB 2.0 port
OS – Windows 10
Mac PCs cannot run the Oculus rift currently as well.
Similar to the Vive the Oculus Rift includes everything you need to get started. Included: Headset, two sensors, two touch controllers, all required cables and accessories and seven VR apps. Headphones are included on the Oculus rift which produce fairly good sound.
A Third sensor is recommended for 360 degree room tracking but not required. Extra sensors cost £59 or $59.
The Oculus Rift is quite a bit cheaper when compared to the HTC Vive. Coming in at £350 or $350 it is a good option for VR on a medium budget. The price of the Oculus Rift can actually be decreased down to £315 or $315 when using a 10% off referral code. We highly recommend this option if you already have a gaming PC.
Windows Mixed Reality – Best Budget VR for PC

Unlike the two above, Windows Mixed Reality is actually like a platform which many developers have made headsets for. These Include some big name companies including: acer, HP, Asus, Dell in addition to Lenovo. The other headsets Vive and Oculus use external sensors to track your movement but with Windows Mixed Reality, the sensors are on the headset itself. This has some positives but also negatives for example the tracking is not as good but less space is required with no trailing wires.
The resolution of each eye is actually higher than that of the oculus and Vive however, these are LCD displays so in use tend to not be as good.
What Games Can be Played?
Like the other two, the majority of Steam VR games can be played but not all! In addition to this the Microsoft store has VR games and experiences which you can get. Oculus only games cannot be played unless with a external program.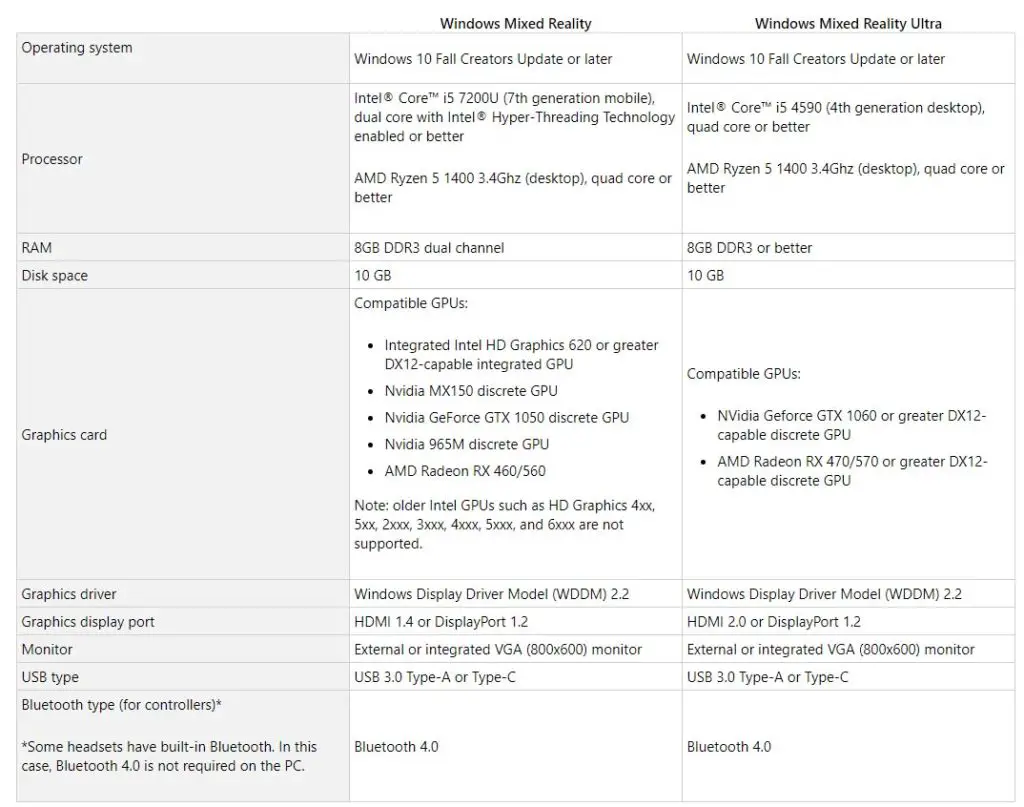 For Lower end VR games Windows mixed reality doesn't need very high end specs. But it is recommended to have the Mixed reality ultra specs to be able to play the latest VR Games.
Windows mixed reality only works on windows
Unfortunately, this question can't be answered that easily as different manufacturers make the headsets. However, most include everything you need included the headset and motion controllers with all required wires. No sensors are required as these are already on the headset itself.
Also hard to answer as there are many variations. The acer version has been as low as £120 or $120 so is very cheap. Having said this, there are other options that cost as much as £400 or $400. The lower end headsets are good but have some problems so you should consider carefully which headset you're going to buy if you're planning on getting a windows mixed reality headset.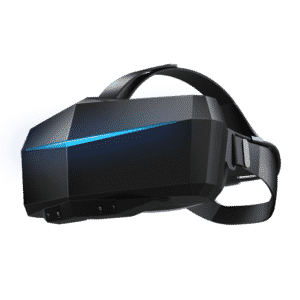 A relatively newer VR headset is the Pimax 5K plus. This headset offers a resolution per eye of 2560 x 1440 which is one of the best screens on any of the listed devices. Even though the screens are not OLED (currently CLPL) they do provide decent visuals at a high resolution. A hand tracking module which allows for hand movement without controllers will be released in the near feature.
What Games Can be Played?
Most Steam VR games can be played. However some don't work straight away or even at all. There is limited support with the Pimax and various VR games and there are also some issues – you might end up having to do a lot of work to get some games working!
A moderately powerful gaming PC. A GTX 1070 for the 5k plus or AMD equivalent and the GTX 1080Ti or AMD equivalent for the 8K.
Only the headset and cables required. Hand motion controllers from Pimax cost $300 but you can use other controllers and a module which allows for hand tracking will be released soon.
Quite expensive and definitely for the enthusiast. Not only is a high powered gaming PC required to run but also some type of controller is required as none are included. The headset by itself costs $699 for the 5K plus and $899 for the 8K but some discounts may come around.
VR Headsets That Don't Require A Gaming PC
For those that don't have a gaming computer or don't have the money to spend on one, there are some very good options now available. Some options require your smartphone like the Gear VR but there are also some other options like the Oculus which provide fantastic VR experiences.
Oculus Go – Best Budget if you don't have a compatible Phone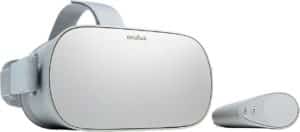 The Oculus Go is a stand-alone virtual reality headset. No computer is required and there are no trailing wires. The oculus go is built to a high quality and has some decent specs. Inside you will find a per eye resolution of 1280 x 1440 which is actually better than the rift and vive. Although the Go is wireless, you will find battery usage tends to only last about 2-3 hours so you may find yourself plugging the headset in when in use.
To make this headset Oculus partnered with Xiaomi thus the Oculus Go is like a Xiaomi phone built into the headset. For this reason, the apps mainly consist of mobile games and video services. No external sensors are included since there is no hand or head tracking.
What Games Can be Played?
Unfortunately, with the Oculus go you will be limited to what the device itself can handle (Which is a phone basically). This means no demanding titles on PC will be playable. Howerver other mobile VR games can be bought and downloaded from the Oculus store as well as many video and music apps.
Nothing really – but make sure you have a smart phone to set it up on.
The headset, controller, usb cable, Eyeglass spacer and AA battery.
£199 or $199 for 32gb version. £249 or $249 for 64gb version
Samsung Gear VR – Best budget VR if you have the phone
Another headset, made in collaboration with Oculus is the Samsung Gear VR. Unlike the Oculus go, the Gear VR uses your Samsung smartphone in order to produce and image tracking. Whilst the headset has great tracking, there are no external sensors similar to the Go. This means hand and head tracking is not available in games.
What Games Can be Played?
The partnership between Oculus and Samsung means there are a lot of apps and games that can be obtained from the Oculus Store. There is also the added bonus of the google play store and cardboard apps which have a fair few games and experiences available.
A Samsung phone! One of these will work Galaxy Note9, S9, S9+, Note8, S8, S8+, S7, S7 edge, Note5, S6 edge+, S6, S6 edge, A8 Star, A8, A8+. Also you should note that the later models will be more powerful and the phones with larger screens provide better experiences.
The Headset and a controller.
Very competitively priced if you already own one of the Samsung phones listed above. The Gear VR retails for sometimes less than £50 or $50 with the controller. This is definitely a great option if you own a Samsung phone and want to experience VR without the hefty price tag.
Google Daydream – Best budget VR if you have the phone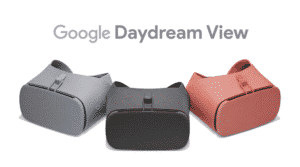 Moving to another mobile required headset, we have the Google Daydream. Similar to that of the gear VR, a controller is included in addition to only being compatible with certain phones (more variety of phones than Samsung however).
What Games Can be Played?
Google has their daydream app on the play store. More apps and games are available to download or purchase from the Play store. Oculus only games cannot be played but there is still a wide selection of video and game apps on the play store.
An Android Phone. More specifically one of these phones: Pixel 2, Pixel, Galaxy S9, Galaxy S9+, Galaxy S8, Galaxy S8+, Galaxy Note 8, Moto Z & Z2, LG V30, ZenFone AR, Mate 9 Pro, Axon 7. Again more powerful and larger screen phones with high resolutions provide better experiences.
Headset and a controller / remote.
Also very competitively priced if you have one of the phones mentioned above. A really good VR experience can be had with Google Daydream. Costs £99 or $99 from the google store but can be found cheaper on other sites like amazon.
There are some very nice and unique headsets available to buy nowadays. Obviously which headset you buy is really going to depend on what you currently have as well as your budget. For the Best VR experience we would recommend the HTC Vive.
The best headset when you take into factor price would go to the Oculus Rift. The Best Mobile headset (if you already own one the phones) would be the Gear VR or Daydream. The best Mobile Headset (if you don't have a compatible phone) and want a slightly better experience would be the Oculus Go.