Asus TUF FX505DU Gaming Laptop Review & Benchmarks
The Asus TUF FX505DU is a very reasonably priced gaming laptop. It features an Nvidia GeForce GTX 1660 Ti in addition to a Ryzen 7 3750H running at 4GHz. Furthermore, it features a 120 Hz IPS display with very thin bezels.
The Asus TUF FX505DU is a great laptop for the price. Coming in at about $900 or £900 it makes a great laptop for anyone looking to get some really decent power without breaking the bank. In this article we will show the Asus TUF FX505DU Gaming Laptop's benchmarks and the pros and cons of owning this laptop. 
The Asus TUF FX505DU we tested features the following specs.
AMD Ryzen 7 3750H
8GB DDR4 2400 MHz SDRAM
Nvidia GeForce GTX 1660 Ti 6GB GDDR6
128GB Gen 3 PCI-e SSD
1TB 5400 rpm HDD
15.6″ 120Hz IPS Anti glare display
These are the specs we had in our laptop. The laptop has a lot of different configurations you can get. Most notably, this laptop can be bought with dual channel 16gb memory and a bigger SSD.
The Design of the Asus TUF FX505DU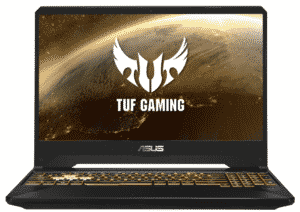 I think it's fair to say that the design of this laptop is very pleasing for gamers and hobbyists alike. It features an rgb keyboard and a military tough build.
The body of the whole device is made from plastic and does have a little bit of flex in it. But this is not noticeable when using the device. The small bezels make it look very good and sleek.
The Build Quality of the Asus TUF FX505DU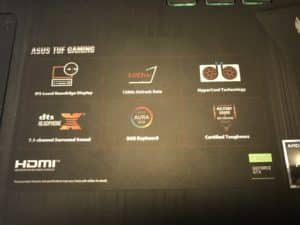 Although the entire laptop is made from plastic, the overall build quality of the Asus TUF FX505DU is very good.
According to Asus the laptop is MIL-STD 810G passed and has been tested for shock & vibration, temperature, humidity, altitude as well as solar radiation.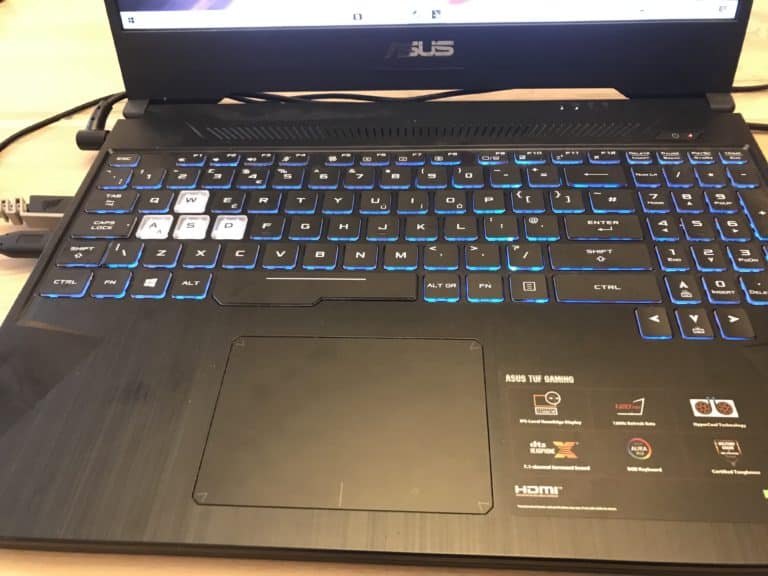 The keyboard is not the best in the world – but it isn't bad either. There is a little bit of flex when typing because of the plastic build but overall it is a good, decent keyboard with a good amount of key travel (1.8mm). According to Asus, these keys have a lifespan of 20 million presses. 
Under the keyboard are RGB lights which let the keys turn to millions of different colors. Using the TUF Aura Core program will let you customize your keyboard. You will be able to change the colors and add lighting effects such as strobe in addition to fade.
If you don't install this program, by default the keyboard cycles through the colors. Using a key on the laptop will allow you to change the brightness but nothing else. It is important to note that separate keys cannot be individually colored. The whole keyboard can only be one color at a time. 

Asus has made sure this keyboard is designed with gamers in mind. It features highlighted WASD keys in addition to a broader space bar which means your less likely to miss the space key. For everyone that uses the arrow keys, Asus has separated each key for easy gaming with the arrows. Overstroke technology also means that keystrokes are not missed as it registers keystrokes a lot faster.
At the top of the keyboard there are dedicated function keys designed for gaming. They feature the normal ones like sound, mic as well as airplane mode. But it also has the key at F5 which changes the profile between silent, performance, and turbo.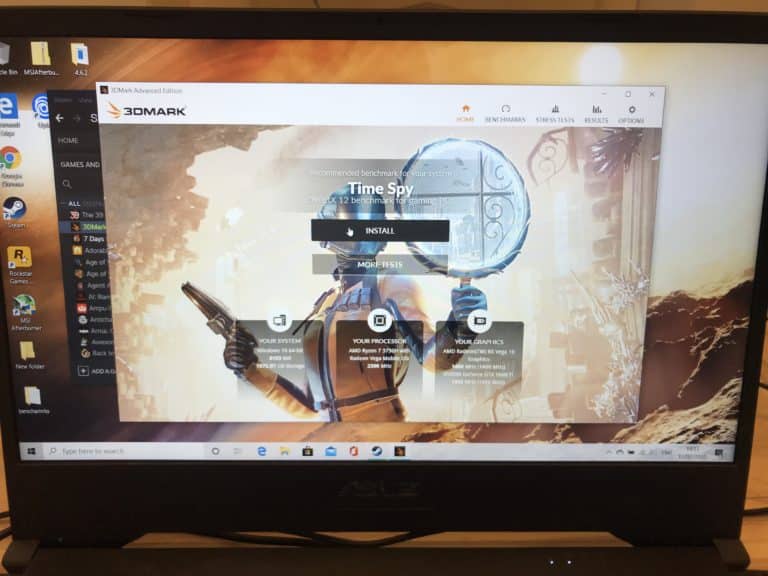 The screen on the Asus TUF FX505DU is a 120Hz IPS nano edge display. All in all the screen looks amazing. The viewing angles are great and the bezels are just 6.5mm.
Having a 120Hz display on a laptop like this makes a lot of difference when gaming. Unfortunately, this laptop isn't powerful enough for all games to get 120fps even at medium to high settings. This can seem like a waste to have a 120Hz screen but when playing esports titles like CS:GO, it definitely uses the 120Hz screen to its advantage.
Overall, the screen is really good except for the larger bezel at the bottom.
Like in many gaming laptops, the battery is quite bad in this one. According to Asus, you can except to get around 4 hours web browsing on this laptop.
In our tests we would be lucky to get about 2 hours when web browsing on performance mode. Silent Mode achieved slightly better results but still not near the 4 or 6 hours.
Gaming on the battery on performance mode would just kill the battery very, very quickly. You can turn down the laptop to silent mode but this would cause games to have very bad fps. Having this laptop of turbo would kill the battery even quicker and is also about as loud as a vacuum cleaner.
There are three default modes that come with this laptop which you can switch to via the hotkey F5.
This mode gives very little gaming performance. It makes the battery last a lot longer and does not have the fan spinning (or is very slow). You can use silent mode for web browsing, watching movies and light applications only.
Performance Mode is the default go to in my opinion. It allows good gaming performance and all the other applications in silent mode. It does kill the battery faster but it provides much better fps in games. The fans vary in speed on this mode depending on what you're doing. It can be fairly loud but it's not too bad.
Turbo mode has the fans running very fast and clocks the CPU and GPU faster. In general it doesn't provide that much better performance than performance mode but it is really, really loud. 
The Asus utility pre-installed on the laptop allows you to customize and add your own profile which is very useful.
Cooling of the Asus TUF FX505DU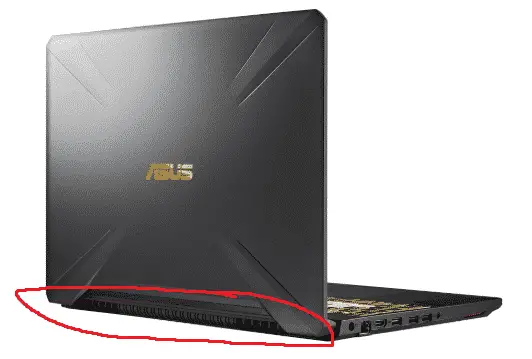 The cooling is okay on this laptop. It does get hot but that is to be expected with a powerful laptop. The fans can get quite noisy when under load.
It has a dual fan design with Anti dust cooling to ensure long lifespan. The hot air mainly comes out the back of the laptop away from your hands and the screen which is nice.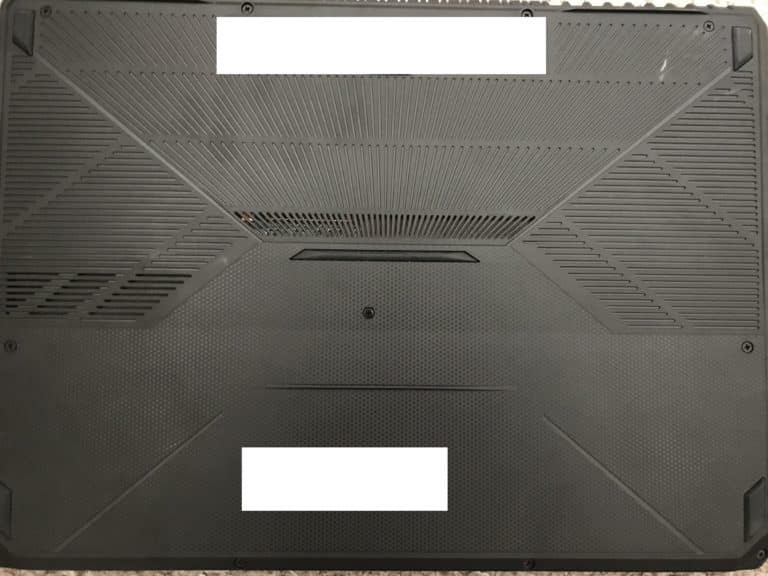 The audio is quite decent coming from the laptop speakers. The speakers are located on the bottom and features 7.1 channel virtual surround. 
When plunging in headphones in the jack it also is very good and fine for most tasks.
On the Asus TUF FX505DU there are a good selection of I/O ports that can be used. There are 2 USB 3.1 Gen 1 and 1 USB 2.0 for USBs. There could be more USB ports but three is generally fine for most things. 
There is a gigabit Ethernet port which is great for getting the fastest download speeds and best ping in game.
The HDMI 2.0 Port allows for an external monitor to be connected which is great. I would have liked to see a DisplayPort 1.4a port or USB-C which are very useful for today's VR headsets however.
The Audio jack is a single audio jack for both headphones and microphones.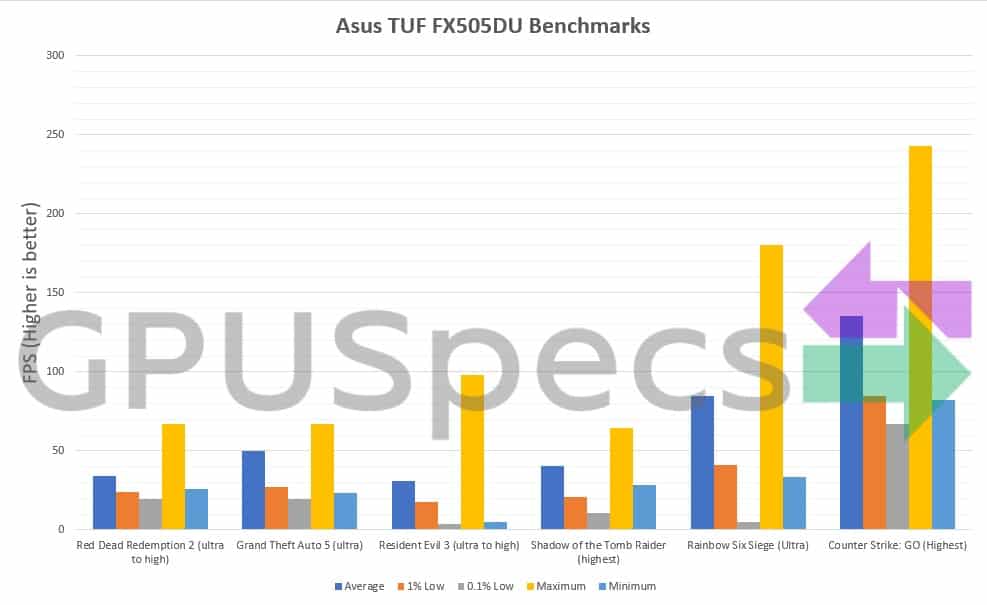 Overall the laptop performed very well in all these games we tested. The laptop ran these games at ultra or high or a mix of the two. esports titles like csgo and Rainbow Six Siege performed a lot better as expected. 
Red Dead and resident evil were the two more challenging games for this laptop to handle.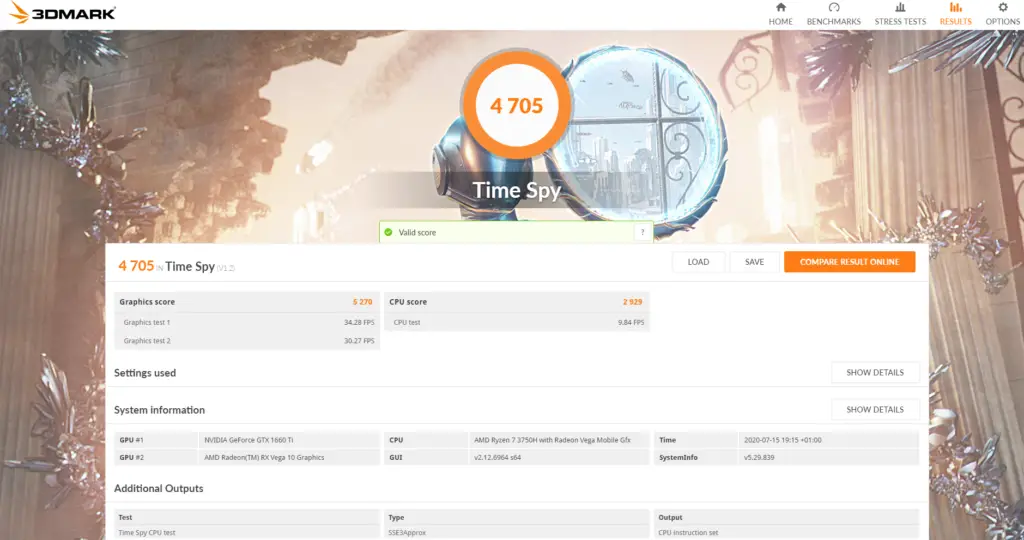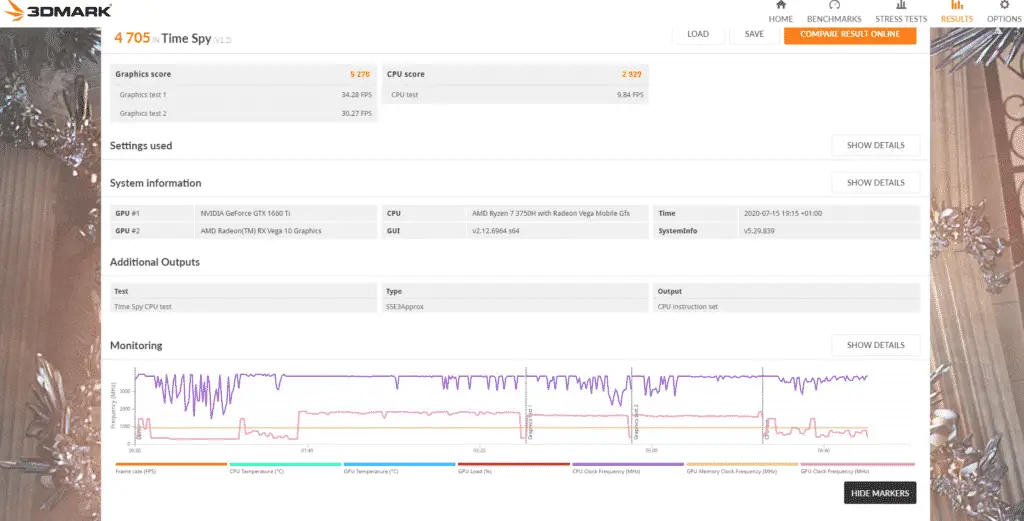 The Asus TUF FX505DU is a great laptop for its price. It handles all the newest and latest games very well and is quite future proof with the latest Turing architecture and the Ryzen 7 processor. 
The only bad thing about the laptop would have to be the battery, but this is as expected with most gaming laptops. More ram could also be very useful as in some games the memory was maxing out and this could possibly be a bottle neck. You can get a version with 16GB of ram so we recommend going for that version.