How Well Does The Cheapest Pre-Built Gaming PC Perform?
In this article we will be going throught the Cheapest Pre-Built Gaming PC we could find. There were however some prerequisites that we used to determine the cheapest Pre Built.
The main points were that this had to be a brand new gaming PC that someone may consider buying without having to build a PC. This is ideal for anyone who wants a PC to play games on but may not know how to build a PC and wouldn't want used components with no warranty.
Also Check Out
Determining the Cheapest Pre-Built Gaming PC
These are the requirements we used to determine the cheapest pre built gaming PC:
After some looking around. The PC we chose is the AWD Seven Gaming PC which is built to order. The Price has changed since this article was made and it is a lot harder to get a decent graphics card now.
This is the PC we ended up getting. This was purchased in november of 2020 which is why the prices are different to what we see now. This pc costs £360 or about $500 making it very good value for money at around the same price or even less than the latest consoles.
Inside the box was various cables and manuals included. Everything you need to get started. Windows 10 was not included but there are ways of getting this for cheap. Also included was a wifi dongle which some people may need.
This is what was included with the PC: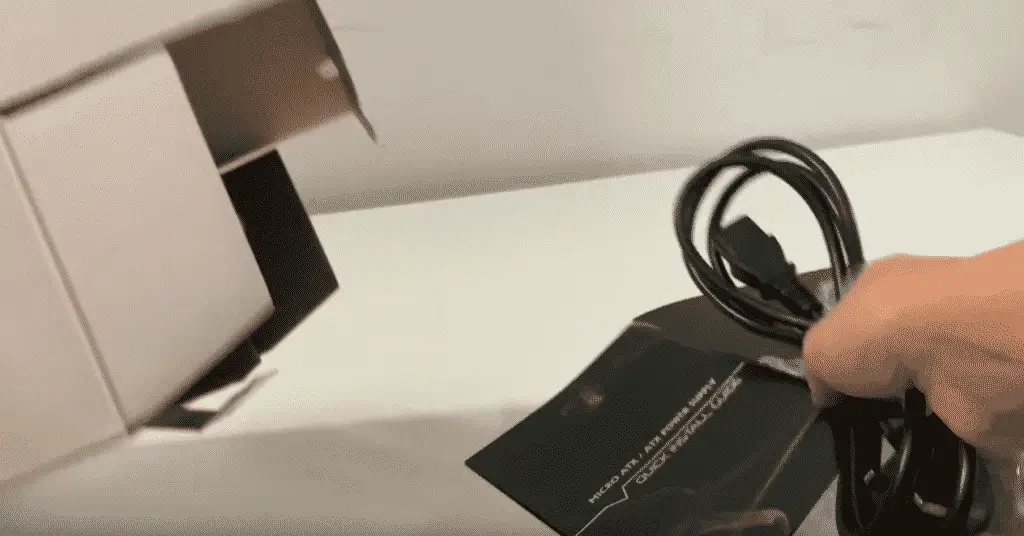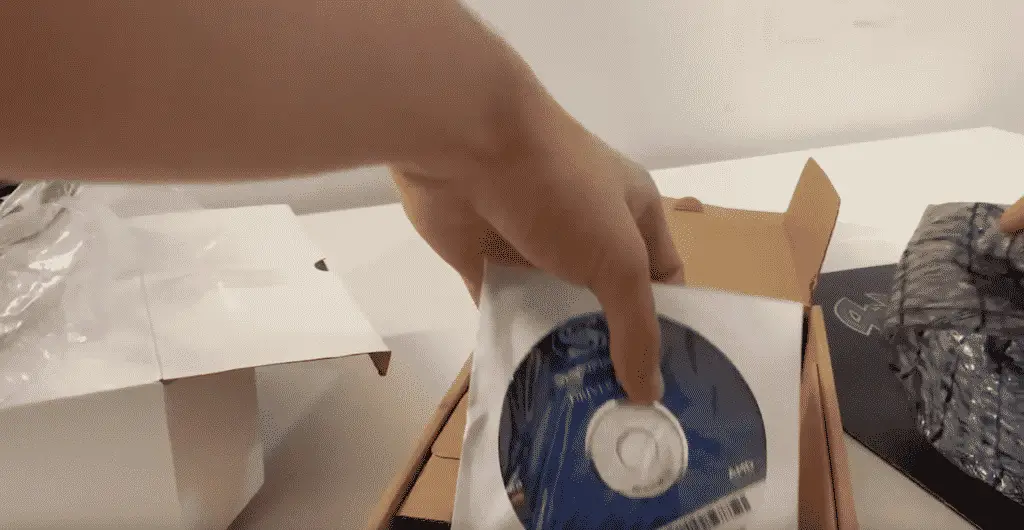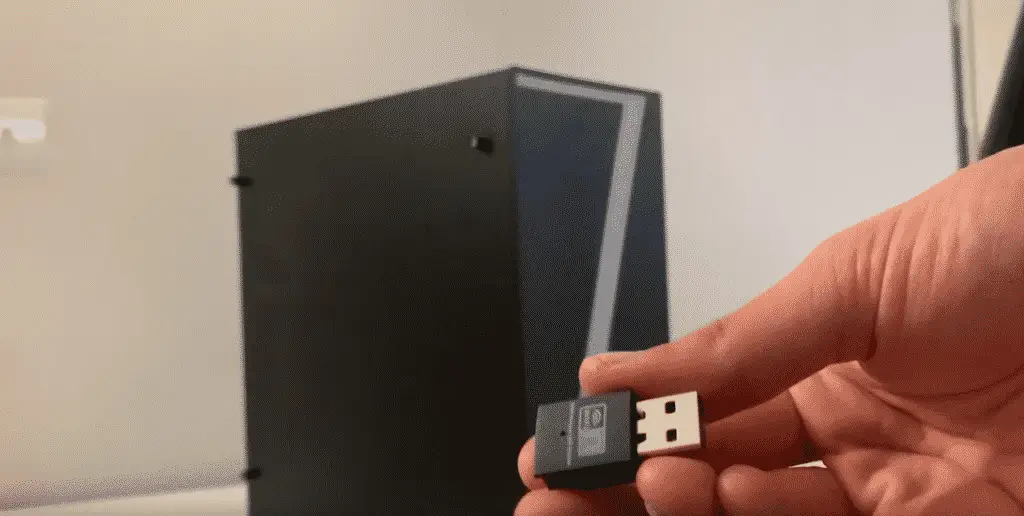 There are a good range of ports on the PC. Ideally there could be some front panel USB 3 ports but there weren't any due to this being a really cheap PC case.
On the graphics card there is:
1 x DVI-D port
1 x HDMI 2.0b Port
1 x Display Port 1.4
On the motherboard there is:
Legacy keyboard / mouse connectors
DVI
HDMI
4 USB 3.0 Ports
2 USB 2.0 Ports
1 x gigabit ethernet
Headphone and microphone ports
On the Front Panel (case) there is:
Headphone and Microphone ports
2 x USB 2.0
Power and reset button
In this case the motherboard video connectors are quite important and it's good to see an HDMI port on the motherboard. This pc contains a CPU with integrated graphics so removing the graphics card will still allow full functionality and even gaming.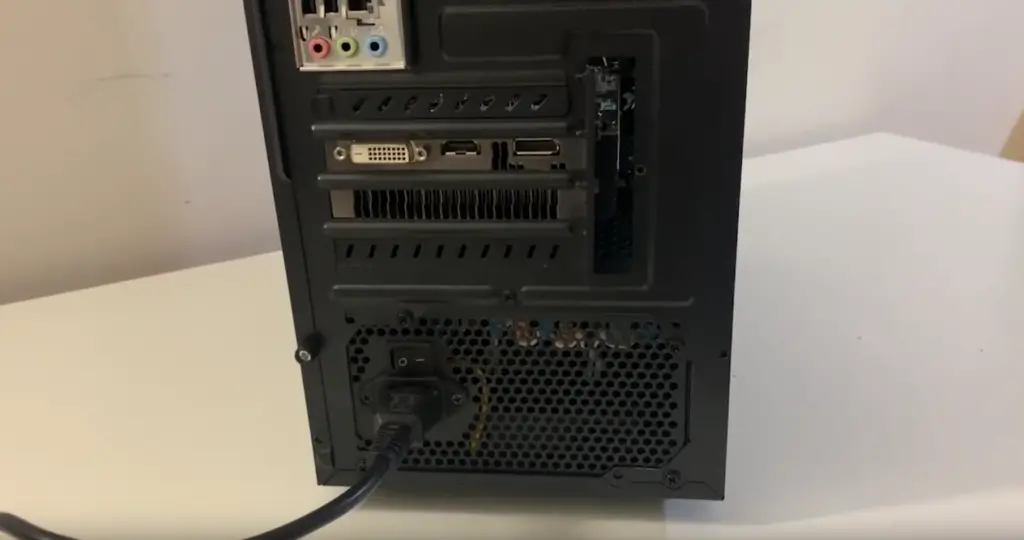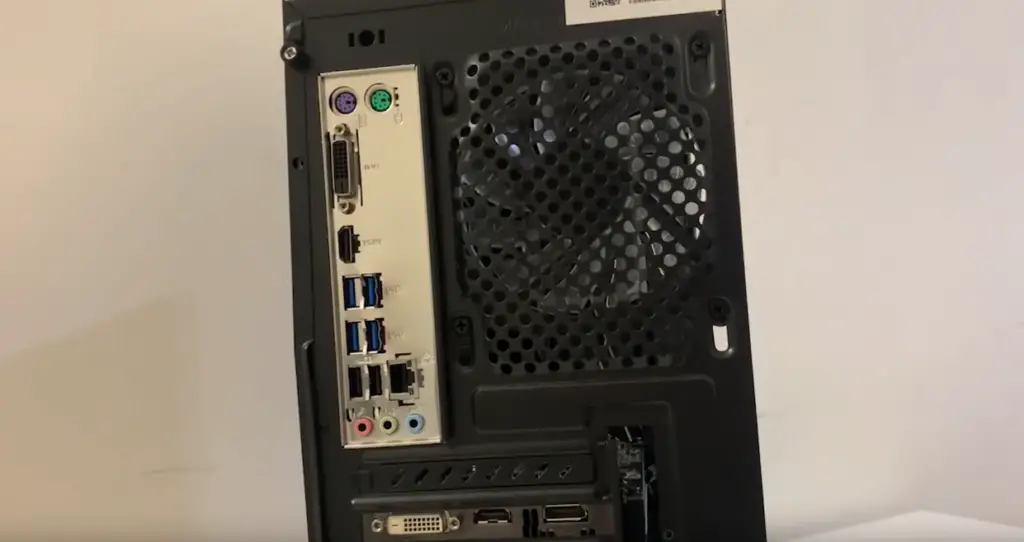 There were many customization options on this PC. Ideally we would have gone for the Ryzen 3 3100 and saved money and gained performance but by getting the Ryzen 5 3400g we could test games using the integrated Vega 11 graphics to see how well it would perform then.
Without the graphics card using just the integrated graphics of the Ryzen 5 3400g, you could reduce the cost of this PC down to £280 or less than $400 which is really cheap.
However, the extra performance you get with the RX 570 is 100% worth it and makes your gaming experience a lot better for only about £80 or $100 ish dollars more. You will see this when we get onto the benchmarks.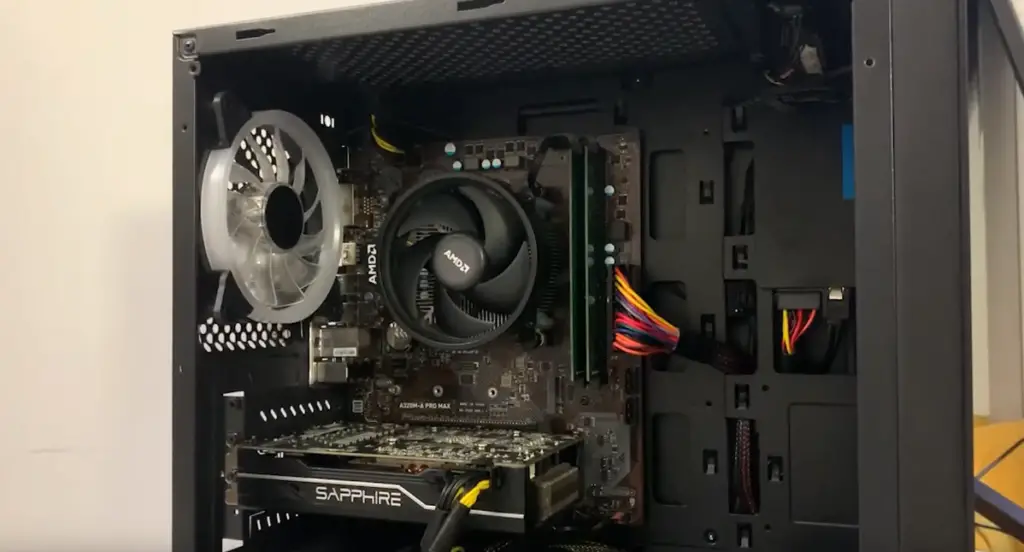 There are many things to like about this PC, here are a few:
Cable Management very good
Great Price
Great Performance
Looks Great
Well Built
There are a few problems with the Cheapest Pre-Built Gaming PC, not all are big problems but could use improvement.
Side Panel Scuffed
Missing PCI-e expansion cover
Change components from what is listed
Case has sharp edges and corners
Only USB 2.0 on front panel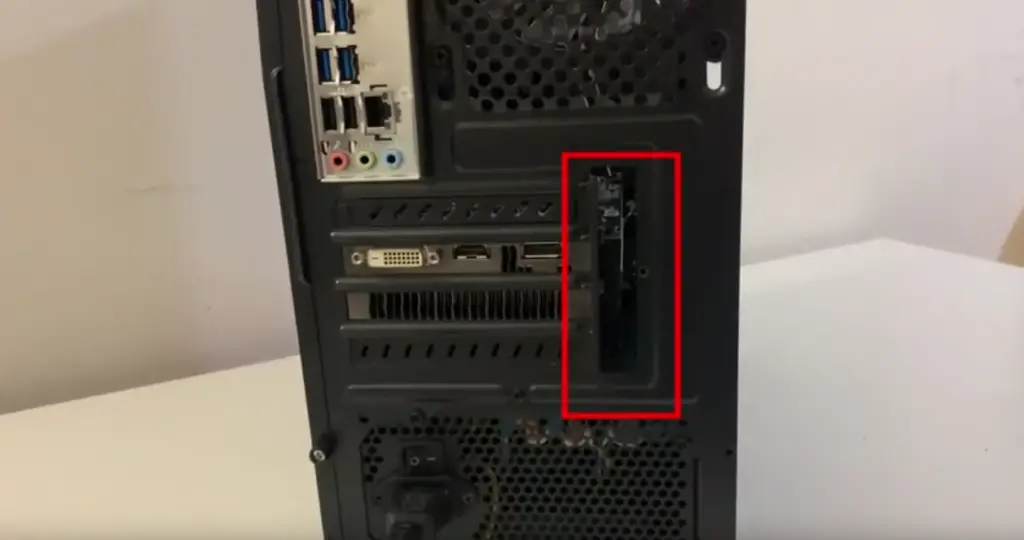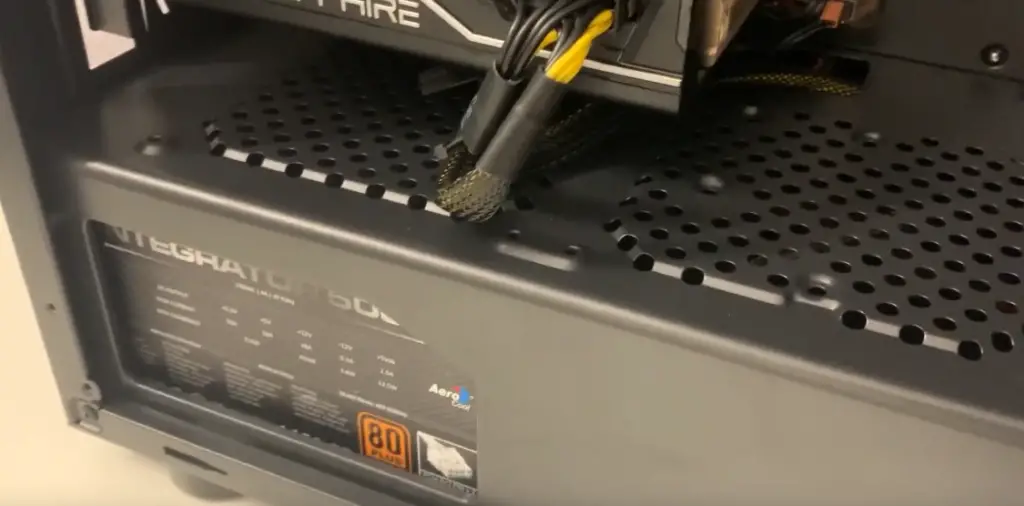 Althought the PSU is still 500W and 80 plus bronze it (in my opinion) is not as good as the Coolermaster version. The Aerocool integrator PSU is listed as a tier D on the LTT PSU Tier List whereas the Coolermaster MWE white is listed at tier B.
This is not too big of a deal breaker as the PSU will probably hold out fine but if you order a specific item, you expect to get that item and not something else.
The case is quite cheap and not very good. It has sharp edges and corners and no USB 3. The RGB is bright and not very good, although it does look quite cool. If you get this PC, we recommend you change the PC case to something else which will cost a little more but will be worth it.
The PC with the RX 570 4Gb performs a lot better than the integrated graphics (no surprise there). We tested a variety of games and you can view them here.
Ryzen 5 3400G + AMD RX 570 4GB Gaming Performance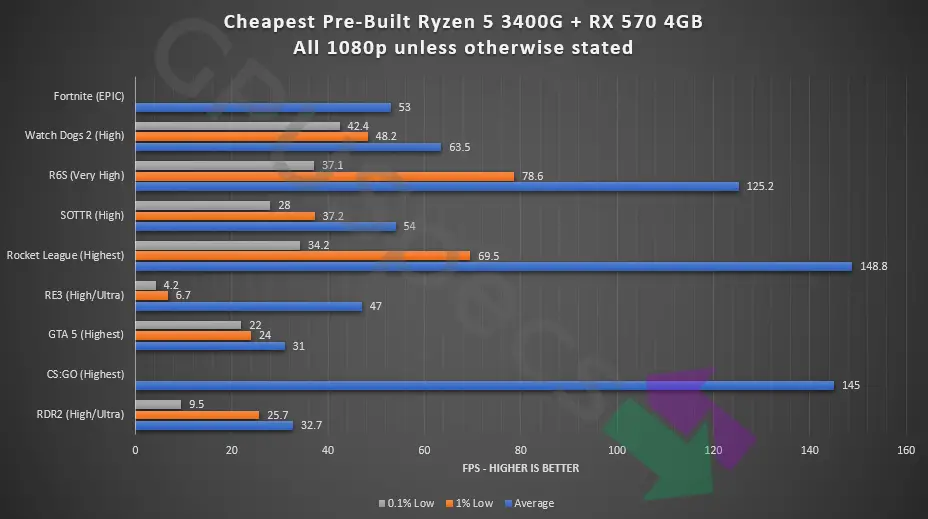 When the RX 570 is installed the gaming performance is great. Basically every game was more than playable at 1080p at high settings and even ultra.
The 1% lows and 0.1% lows could be improved but with only 8GB of DDR4 ram it performed very well. Ideally you could add more ram to hopefully get better 1% and 0.1% lows.
Ryzen 5 3400G + Vega 11 Gaming Performance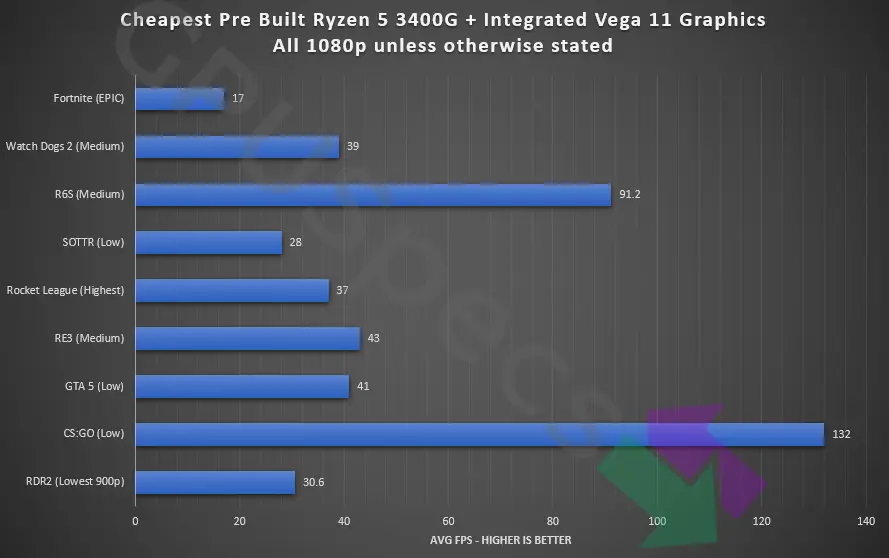 Without the graphics card, using the integrated graphics, the games were still more than playable but you would have to make compromises to decrease the settings. Most games ran very well at low and medium.
Buying a PC without the graphics card and using the integrated graphics is not a bad idea. Later on down the line you can add a graphics card. This is great if you don't have much money currently as it allows you to play games now without waiting.
Adding more ram at a higher speed would also improve these numbers.
Ryzen 5 3400G + RX 570 3D Mark & Cinebench
On these two benchmarks, the PC performed really well and provides a great gaming experience.
Overall, this is a great gaming PC especially for the price. We recommend you get the RX 570 as it makes the gaming performance very good. If you can't currently afford it, we recommend you get the integrated graphics with no graphics card and then put a graphics card in it in the future.
If you plan on getting this PC here is the link (not sponsored or affiliated):
https://www.awd-it.co.uk/awd-seven-amd-ryzen-3-3200g-4.0ghz-quad-core-pc-for-gaming.html
Keep in mind that the prices have probably changed!
Last update on 2023-12-01 / Affiliate links / Images from Amazon Product Advertising API