Graphics Card Power Connectors Explained
Graphics cards vary a lot in terms of power requirements. Some graphics cards require no power connectors and use the power gained from the PCI-E x16 slot. This is in contrast to the graphics cards that require power from your power supply unit.
There are two types of connectors from your power supply unit: 6 pin and 8 pin. These connectors tend to come in the form 6+2 pin meaning you can disconnect the 2 pin to get 6 pin or use both for 8 pin. In this article we will explain all the connectors and the adaptors that you can get in graphics card power connectors explained. Let's get started.

The PCI-E x16 Slot is capable of providing 75W of power to the graphics card. This is more than plenty for some of the less demanding cards such as the GTX 1650. The card can get all its power from the slot and therefore does not need any external power from the PSU.
The PCI-E x16 slot is located on the motherboard and is the common interface for all graphics cards. The motherboard gets it's power from the 24 pin (or 20 pin) power connector from the power supply unit.
Generally, a GTX 1650 or lower don't require external power. This means that the majority of graphics cards that just use PCI-E slot power are low end or at best, mid range cards.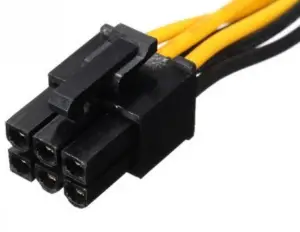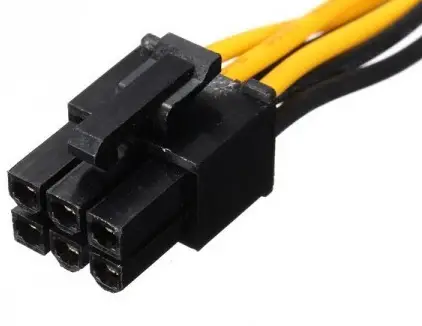 A 6 pin connector is capable of providing an additional 75 W for a total power of 150W. This covers the majority of mid range and even some higher end cards. For example the GTX 1060 and the GTX 1650 SUPER both use a 6 pin power connector and have a power usage of 120W and 100W respectively.
Graphics cards can have mutiple of this connector (mainly 2) for a combined power of 225W.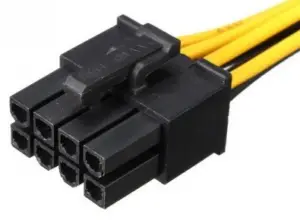 An 8 pin connector is the other option. This power connector tends to come in a 6+2 pin form for convenience so you can either connect 6 or 8 pins to your graphics card.
The maximum power that can be delivered from an 8 pin connector is 150 W. This means the majority of mid to high end cards use some kind of 8 pin power connector. The RTX 2070 for example uses a single 8 pin connector and uses 185 W of power. This can be achieved as the max power is 75 W from the PCI-E slot and 150 W from the connector making 225 W the maximum.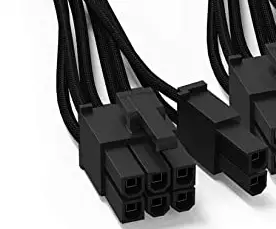 As mentioned above, this is what you usually get in a PSU to allow for different graphics cards.
What's interesting to note is that a 6+2 pin can deliver 150 W of power. But the 6 pin by itself can also deliver 150 W of power as long as its a 6+2 Pin.
There are many adaptors you can get to be able to power your graphics cards when you don't have the right connectors. Some of the adaptors can be quite bad in terms of the power given as they don't meet the required wattage.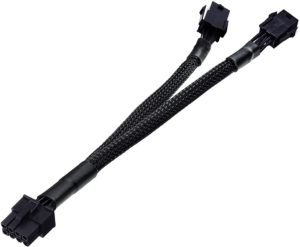 If you have to 6 pin connectors and need to power an 8 pin graphics card, then you can use this adaptor. This uses two 6 pin connectors of 75 W each to get a 150 W 8 pin connector.
Dual Molex to 8 Pin connector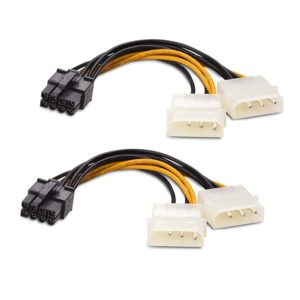 This ones great if you need an 8 pin power connector in your computer. Whilst not ideal, it uses two 4 pin molex connectors to get the 8 pin power connector. Not all the pins on the molex are used as the power requirement only requires these pins to be used.
Dual Molex to 6+2 Pin connector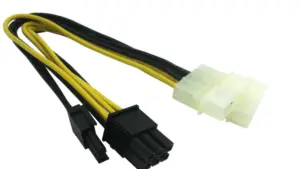 This one is the same as above except you will be able to disconnect the 2 pins to make a 6 pin connector. This is ideal if you plan on using this on different cards where one might require an 8 pin and the other a 6 pin. Also like the other dual molex adaptor not all the 4 pins in each molex are used.
Dual Molex to 6 Pin connector

A dual molex to 6 pin connector uses less of the pins in the molex as it only requires 75W for the 6 pin connector. This is ideal to use for a 6 pin graphics card connector but we would recommend getting a 6+2 pin for upgrade ability and power reasons.
This one isn't as ideal as some of the others but it can work quite well. It converts a 6 pin to an 8 pin connector to power cards that require 8 pin connectors.
8 pin to Dual 8 pin adaptor
We wouldn't really recommend this one, but it can work quite well. The 8 pin connector splits into dual 8 pins allowing you to power dual 8 pin cards with a single 8 pin.
Instead of using molex, you can use sata power instead. We recommend to use molex instead of sata power but it is still and option that can work well in some cases. This uses a single sata power and converts it to a 6 pin power connector.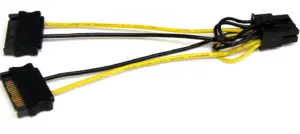 Instead of using molex to 8 pin, you can use the dual sata to 8 pin. This uses two sata power connectors to convert it to an 8 pin power connector. We would recommend you use molex but it is an option and it does use dual sata power for the requirement of 8 pin to be double that of a 6 pin connector.
Total Graphics Card Power (TGP) Table
| PCI-E Slot | 6 Pin Connectors | 8 Pin Connectors | Maximum TGP |
| --- | --- | --- | --- |
| 75 W | None | None | 75 W |
| 75 W | 1x 75 W | None | 150 W |
| 75 W | None | 1x 150 W | 225 W |
| 75 W | 1x 75W | 1x 150 W | 300 W |
| 75 W | 2x 75W | None | 225 W |
| 75 W | None | 2x 150 W | 375 W |
We have seen lots of differnet power connectors and adaptors. Hopefully this will give you a better understanding of the graphics card power connectors. If you need to use an adaptor we would recommend the molex adaptor (or getting a new power supply). 
We can see that the PCI-E slot provides 75 W of power, 75 for each 6 pin and 150 W for each 8 pin. Be sure to check our website for more articles.