Best single slot graphics cards
The graphics section in the PC universe has taken a huge leap over the past few years. With the competitiveness between the leading designers and manufacturers, more and more graphics card models and technologies are being introduced at a very high frequency than ever. The cards are becoming more powerful by the day and becoming bigger in size. So as of today, almost all high-end and mid-range graphics cards are bigger in size. This is why it is hard to find the best single slot graphics cards.
Furthermore, they come in a dual-slot design which covers up an entire extra slot on your motherboard and also on your case. This is mainly because these graphics cards come with more powerful GPUs that require better cooling systems to function properly. The heat-sinks are bigger and most of the cards come with extra pipes and fans. These take up a lot of space on the card and making the whole card bigger.
Why get Single Slot – Best single slot graphics cards
Having a dual-slot GPU isn't necessarily bad as it is the current standard. But if you are tight with space or need to use other slots for some other card, this is very much a problem. So if you are using a smaller motherboard, like a microATX, or have trouble with fitting a double-slot graphics card into your casing, then you might want to consider buying a single-slot card.
Single-slot cards are comparatively very small. This means there is more space inside the case for the air to flow. They also consume a considerably lower amount of power ending up saving you a few bucks too. However since these cards are not as rugged as the double-slot ones, overclocking or heavy using for like mining should be avoided at all times. So, since most of the GPUs today are double-slot cards and if you really want to make use of that second PCI-E slot, we hope to make a step easier for you through this article, by listing out the top go-to single-slot cards that are available today. Here are the best single slot graphics cards.
Gigabyte GT 1030 OC 2G – Best overall – Price : Performance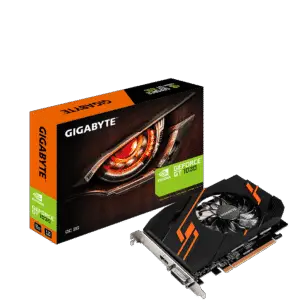 GeForce GT 1030 is the go-to single slot graphic out of all the options out there. This isn't the best but has a great price-to-performance value. The card came out in May 2017 but still is a tough contender in this category. This is an entry-level card of Nvidia's 10 series family which is built on the award-winning 14 nm Pascal Micro-architecture. The card packs with 384 CUDA Cores and 2 gigabytes of GDDR5 Video RAM to support and easily manage most of your essential and regular work.
This card is also great for your basic gaming needs as it can run most of older game titles on medium to high settings. More recent games can be run on low to medium settings at decent frame-rates, all on 1080p. However, this version also has double-slot versions so check carefully before buying. You can use Gigabyte's Aorus engine utility to customize voltage, fan speed, temperatures and lots more.
| Positive | Negative |
| --- | --- |
| Good performance | Radeon RX 550 offers D12 games |
| Great Build Quality | |
| Pascal Architecture | |
| Low Power consumption | |
| Great gaming performance | |
| Excellent for DX9/11 based games | |
GALAX Geforce GTX 1070 KATANA 8GB – Best high-end graphics – one of the Best single slot graphics cards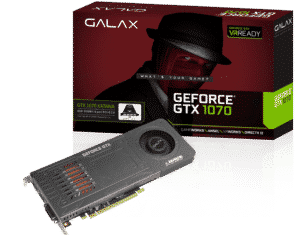 This is a very special card in the single-slot category as this card falls under the high-end GPU category. Normally anything greater than a GTX 1060 comes only in a double-slot size but GALAX has done a wonder here by bringing a GTX 1070 card which packs a whopping 8 gigabytes of GDDR5 memory. This beast packs 1920 CUDA Cores and also supports VR features. The card performs just like a regular GTX 1070 but comes with a slimmer cooling system. This makes the GALAX card the only single-slot GTX 1070 in the whole world! This card can easily run almost all of the latest and older games on high and ultra settings in 1080p. Additionally, it has really good frame-rates as well. If you are really a gaming type of person and don't mind spending a little more than usual, this is the best single-slot card for you.
| Positive | Negative |
| --- | --- |
| Great performance (best single slot performance) | Not latest architecture |
| good video outputs | Can get hot |
| Slim size | Can be hard to find |
| Can use SLI for two way with 2 slots | |
Inno3D Geforce GTX 1050 Ti 4GB – Best gaming single-slot card – one of the best single slot graphics cards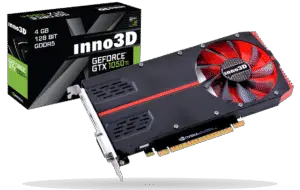 Nvidia Geforce GTX 1050 Ti is a very famous and a great mid-range graphics card of Nvidia's previous generation of GPUs. This GPU is also built on the Pascal Micro-architecture and packs 768 CUDA cores. GTX 1050 Ti comes with 4 gigabytes of GDDR5 memory. It allows you to run almost any game on medium to high settings in 1080p. This card isn't just good for gamers, but general video editors and designers can also settle with this GPU as it delivers enough performance for those works as well. However, GTX 1050 Ti mostly comes in a dual-slot form. So you should be careful to check if you are going for the single-slot version by Inno3D.
| Positive | Negative |
| --- | --- |
| Great performance | Not latest architecture |
| Decent price | can be hard to find |
| Good video outputs | Cooling is not the best |
| Slim design | |
| Cooler casing | |
XFX Radeon RX 550 4GB Slim Single Slot Design– Best budget card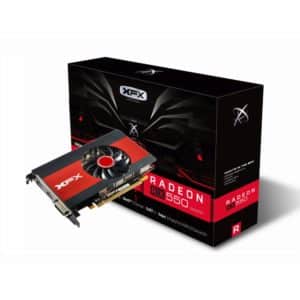 Radeon graphics cards are famous to be cheaper in price than their Nvidia equivalents in the market. The RX 550 has similar performance to a GTX 1050. Though the GTX 1050 has a slightly faster clock speed, the price and the value put RX 550 back in the game. Normally RX 550 is also most commonly seen as a double-slot GPU. This version however, allows you to have the benefit of a single-slot form. XFX Radeon RX 550 packs a 4-gigabyte GDDR5 memory with 512 stream processors. This card also can run anything from an outdated video game to a most popular AAA title. Furthermore, it will still have semi-decent frame-rates at 1080p. This card is ideal for who is careful on their budget. This can even cost less than the GT 1030 and is really a good deal.
| Positive | Negative |
| --- | --- |
| Good performance | Can be hard to find |
| Relatively Cheap | Can get hot |
| 3 Video outputs | Performance not as good as some other cards |
| Cooling is better | |
| Housing for heatsink and fan | |
EVGA GeForce GT 710 2GB – Ideal for business use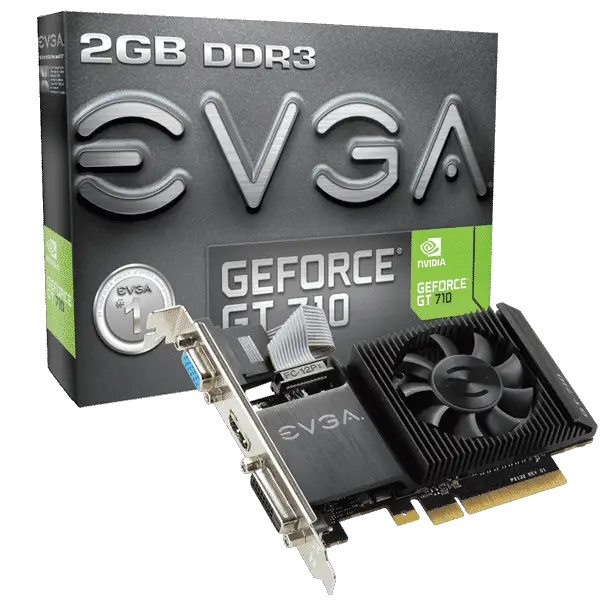 Nvidia Geforce GT 710 is a bit outdated graphics card. However, as it consumes only 1 slot and manages to handle daily tasks without any issue, it has managed to make an appearance on this list. GT 710 isn't a great card but isn't bad either. This card packs 2 gigabytes of DDR3 memory with 192 CUDA Cores. This graphics card is not great at gaming. However, older games, like some esports titles and office work will be fine. This GPU is however ideal for office use as it can run on 720p or even 1080p with regular work and is really budget-friendly.
| Positive | Negative |
| --- | --- |
| Cheap | Performance not great |
| Easy to install and use | No Display Port |
| Contains VGA (if you need it) | Cooling isn't great but usually doesn't get very hot |
| Low power | |
PNY GeForce GTX 1650 4GB XLR8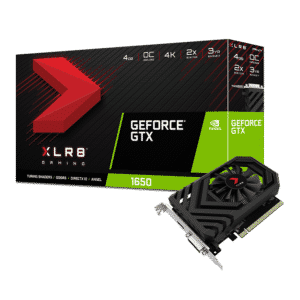 The PNY GeForce GTX 1650 4GB XLR8 is one of the latest single slot graphics cards you can currently get. It comes with the latest Nvidia technologies as its on the Turing architecture.
It features 4GB GDDR5 memory with a base clock of 1485 MHz in addition to a boost clock of 1725 MHz. The PNY GTX 1650 can play all the newest games at medium to high settings. E-sport title work very well with decent fps when playing on low in order to maximize performance. This graphics card is a very small graphics card with just 1 fan and can fit in virtually all pc cases. The only downsides to this is the thermal performance as well as the lack of ports.
There is 1 HDMI 2.0b and 1 DVI-D for I/O on the PNY GTX 1650. If you're looking for a future proof single slot graphics card that won't break the bank, then this graphics card is for you.
| Positive | Negative |
| --- | --- |
| Single Slot | Lack of I/O Ports |
| 4GB memory | GDDR5 Memory instead of GDDR6 |
| Turing archtitecture | |
| Low power | |
| Small and compact | |
PNY Quadro RTX 4000 8GB GDDR6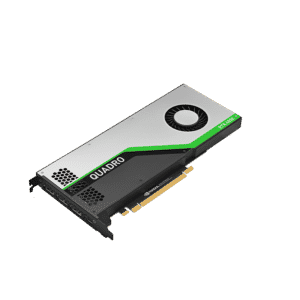 Although the Quadro RTX 4000 is a server or workbench graphics card, it still has great performance. Furthermore, it is a single slot graphics card with lots of I/O to use.
If you're looking for a workbench single slot graphics card, then this graphics card is for you. It features the ability to have multiple graphics cards connected and only use the same number of slots in your case. This graphics card is on the Turing architecture and features ray tracing and AI so it will be future proof for some years to come.
| Positive | Negative |
| --- | --- |
| Has USB-C to connect VR headsets | Price to performance isn't as good |
| Good performance | Server Card (not designed for gaming) |
| Server Card (Can be multi use) | Cooling could be better |
| Single Slot | |
So now that you know what single-slot GPUs are and why they are used, you can decide on buying the graphics card that suits your scenario best. If you are a heavy gamer and don't like to sacrifice the other slot or have space trouble, GTX 1070 KATANA or the GTX 1050 Ti are the ideal ones for you. However, if you are looking to settle with one which comes with good support and decent performance, GT 1030 is the one for you. When you're looking for a budget GPU, RX 550 is the ideal choice. And if you're desperate on your budget or hoping to use the PC for simple office work only, you should probably stick with the GT 710. Be sure to check out more buyers guides here.
Note: Later generations' single-slot GPUs are a little rare, especially gaming-grade GPUs. Most of them cost more than the original standard versions.