Best HBM2 Graphics Cards For Gaming
Computer graphics have come a very long way from where it all started. It started with a few megabytes of VRAM and now we have graphics cards exceeding 10 gigabytes.
The past decade has been really revolutionary in the PC graphics world as the leading producers have been more active at advancing their own technologies more than ever.
Nvidia and AMD have been competing head to head, putting out improved and advanced technologies and new models every year, making the insanely powerful GPUs that we experience today.
All of these GPUs that came back to over the past decade have their own differences. Apart from the frequencies and the different architectures they bore, they also had another major difference; memory technology. There are a few of the Best HBM2 graphics cards for gaming that we will go through down below.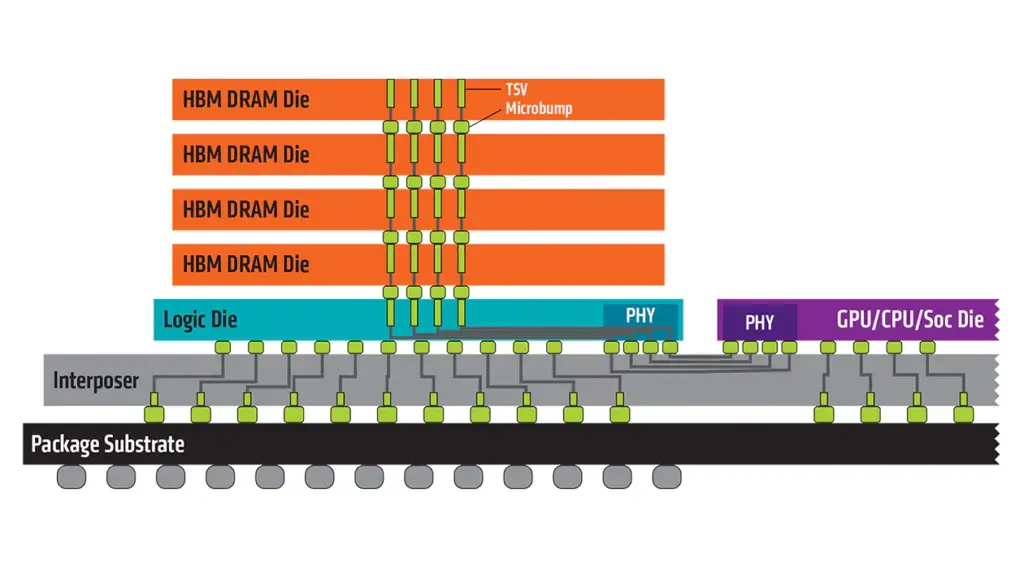 Memory in GPUs, or more commonly known as VRAM (Video RAM), is something commonly sought after when consumers decide one to buy a graphics card for themselves.
Especially higher VRAM values are necessary to handle programs and renderings with more details and resolution, especially games. However, the capacity of VRAM doesn't always define a graphics card as the speed of that memory and the processor also affect the performance.
The 2 main memory interfaces, or rather technologies, found in graphics cards are GDDR (Graphics Double Data Rate) and HBM (High Bandwidth Memory). The more common type is GDDR and it is used in most modern graphics cards, both Nvidia and AMD.
The current type of GDDR memory is type 6 (GDDR6) and these allow high memory bandwidths. However, HBM is even faster as it uses a wider memory bus to allow even higher memory bandwidths and performance. This is why a lot of workstation GPUs utilize this memory type.
Should you get HBM2 Memory?
The HBM2 memory type is not usually used for gaming or other day-to-day purposes but performance thirsty tasks like AI and advanced computing really benefit from them.
Mostly AMD uses this HBM technology on their consumer graphics cards and the latest version of this memory architecture, HBM2 has allowed even more performance on these super graphics cards.
If you are looking for high performance and great power savings on your GPU, HBM2 cards are the ideal choice. So what are the best HBM2 graphics cards out in the market right now?
If you're confused about the memory types check out our memory type guide.
Quick Compare HBM2 Graphics Cards Table
Table could not be displayed.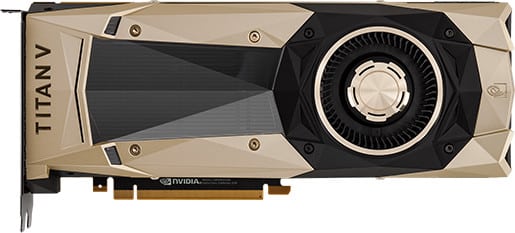 Nvidia currently reigns the GPU market with an insane range of absolute beast GPUs that are the best in their own ways. Just like in any other GPU category Nvidia also secures the top spot on this "best HBM2 graphics cards" list with their "most powerful" graphics card to date, Nvidia Titan V.
Nvidia is famous among most consumers for delivering absolute raw power demolishing the competition in the market. Even though Nvidia mostly uses GDDR memory architecture on most of their computer graphics cards, they have gone wild with this one. On paper, Nvidia Titan V's specs fall behind some of the other HBM2 cards in the market like AMD Radeon VII but still manages to outperform them all with its super-efficient processor that contains 21.1 billion transistors.
Unlike most other cards from the Titan line-up which use GDDR5 and GDDR6 VRAM, this beast easily handles ultra-high resolutions without a sweat.
The 12GB HBM2 VRAM is more than enough for heavy uses like rendering, AI, and other heavy computing tasks. Nvidia proudly presents this as their most powerful card and also comes with a very premium price tag.
Nevertheless, you get one of the best graphics cards you can buy right now with an amazing aesthetic and flashy design for a ridiculous amount of money. Quadro has been Nvidia's higher-end super graphics card line-up for ages but the Titan V is cheaper and more consumer-friendly than most of them. However, the Titan V is a rare card to find and is still pretty expensive but you won't regret it when you get your hands on one.
| Positives | Negatives |
| --- | --- |
| Extremely fast and very effective and efficient in heavy workloads. | Extremely pricey comparing to other alternative cards (AMD). |
| A very budget-friendly HBM2 card if you are an Nvidia fan. | Only found in the founders edition type |
| Performs well on all sorts of tasks including DX12 gaming. | |
| Nvidia Titan V Specs | Value |
| --- | --- |
| CUDA Cores | 5120 |
| Base Clock | 1200 MHz |
| Boost Clock | 1455 MHz |
| Memory | 12GB 1.7Gbps |
| Power Connectors | 1 x 6-pin, 1 x 8-pin |
| Outputs | 3 x DisplayPort, 1 x HDMI |
XFX Radeon VII 16GB – best price to performance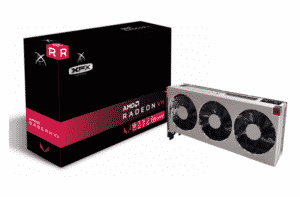 AMD Radeon VII is a beast in many ways and secures the second position on this list.
This is one of the best performing HBM2 memory-based GPUs you can get in the market right now. This top-of-the-line graphics card has helped AMD gain a recognizable spot in the market of higher-end graphics cards.
AMD Radeon VII is extremely famous among most content creators as it delivers outstanding performance in rendering work.
The card is packed with 16 GBs of high-speed HBM2 memory and allows heavier work to be handled without much struggle.
As there is plenty of memory and a wider memory bus than most other high-end consumer graphics cards, the AMD Radeon VII manages to handle 4K gaming and rendering pretty well than its competitors. However, the card is a little pricey but can compete with many creative-focused competitors in the market.
Out of all AMD graphics cards manufacturers, XFX is on the top as users adore their build quality and cooling.
The AMD Radeon VII also comes best in the XFX AMD Radeon VII model and it is the ideal model to buy if you are hoping to settle with one.
| Positives | Negatives |
| --- | --- |
| The value-sentiment is better comparing with the competitors. | Isn't that great with DirectX 12 performance. |
| Has plenty of VRAM to handle tougher workloads like 4K rendering. | |
| Runs pretty cool with the stock cooling. | |
XFX Radeon VII 16GB Specs
| AMD Radeon VII Specs | Value |
| --- | --- |
| Stream Processors | 3840 |
| Base Clock | 1400 MHz |
| Boost Clock | 1800 MHz |
| Memory | 16GB 2Gbps |
| Power Connectors | 2 x 8-pin |
| Outputs | 3 x DisplayPort 1.4, 1 x HDMI 2.0 |
MSI Radeon RX Vega 56 8G – Budget King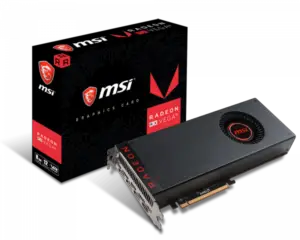 AMD has already built-up a name for themselves in the GPU and CPU market as the most budget-friendly option.
If you are looking for an HBM2 card but tight with the budget, AMD has got your back; the AMD RX Vega 56 is the budget king in this category.
The Radeon RX Vega series by AMD is their high-end graphics card line-up and is used for many purposes including gaming and heavy computing work.
AMD released two models based on the Vega micro-architecture, Vega 56 and Vega 64, aimed at the average consumer with a very affordable price tag.
They both perform really well than the other models in the same price-line as they both adapt HBM2 VRAM technology. This allows faster and larger transfers of data through their memories making them ideal for heavy workloads.
Out of the two models, 56 is the most consumer-friendly and budget-friendly as it performs exceptionally well for the low price that it comes in. There is 8GB of super-fast memory in addition to the raw processing power which is more than enough for general use, including gaming and designing.
It is also a very good entry-card if you are a student learning 3D applications and other heavier rendering work. The RX Vega 56 is manufactured by some leading AMD graphics card manufacturers like MSI and XFX.
However, the MSI Radeon RX Vega 56 Air Boost 8G is the ideal model to go with if you are looking to settle with the stock cooling the card comes in.
| Positives | Negatives |
| --- | --- |
| Extremely budget-friendly HBM2 graphics card. | More power consuming. |
| Very good in gaming performance and is faster than the Nvidia GTX 1070. | Tends to get louder. |
| Enough VRAM to handle almost all types of work and gaming. | |
MSI Radeon RX Vega 56 8G Specs
| AMD RX Vega 56 Specs | Value |
| --- | --- |
| Stream Processors | 3584 |
| Base Clock | 1156 MHz |
| Boost Clock | 1471 MHz |
| Memory | 8GB 1.6 Gbps |
| Power Connectors | 2 x 8-pin |
| Outputs | 3 x DisplayPort 1.4, 1 x HDMI 2.0b |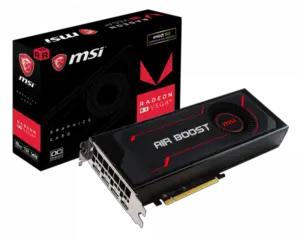 Next on the list, we have the MSI Radeon RX Vega 64. It comes with 8GB of HBM2 memory as standard and features better gaming and rendering performance than that of the RX Vega 56.
If you've got more money to spend, you should go for the RX Vega 64 as it offers quite a bit more performance than that of the Vega 56. In games, you can play all the latest AAA games at the highest settings in 1080p on this card. You may also be able to crank up this resolution to 1440p depending on the game.
This version of the card features the Air Boost cooler designed to give better cooling to this graphics card. When under load this graphics card can become hot and / or noisy so having this extra cooling is great.
By default this graphics card is factory overclocked but you can use utilities such as MSI Afterburner to overclock your card even further for free.
| Positives | Negatives |
| --- | --- |
| Really good price to performance | Consumes a fair amount of power |
| Better performance than the Vega 56 | Can get Loud |
| Lots of VRAM (8GB) | |
MSI Radeon RX Vega 56 8G Specs
| AMD RX Vega 64 Specs | Value |
| --- | --- |
| Stream Processors | 4096 |
| Base Clock | 1247 MHz |
| Boost Clock | 1546 MHz |
| Memory | 8GB 1.89 Gbps |
| Power Connectors | 2 x 8-pin |
| Outputs | 3 x DisplayPort 1.4, 1 x HDMI 2.0b |
AMD Radeon Pro WX 8200 8GB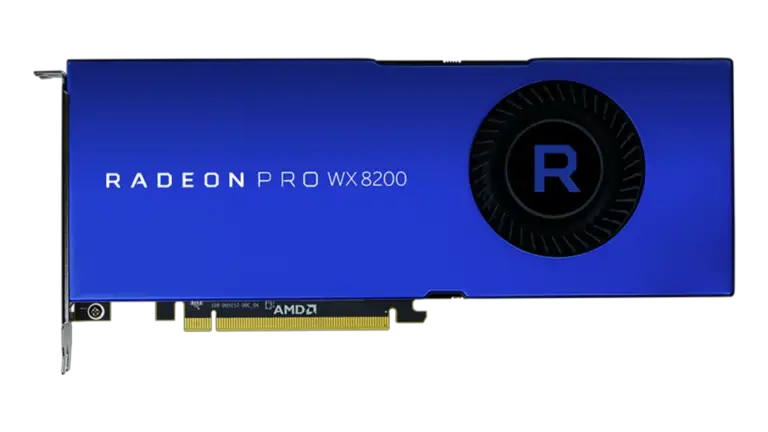 Next we have the AMD Radeon Pro WX 8200 8GB. Although this card is a workstation card and not designed for gaming, it has some great performance and can be used by someone who needs its processing power for gaming and other compute intensive applications.
It features 10.75 TFLOPs of Peak Single Precision (FP32) Performance and 672 GFLOPs of Peak Double Precision (FP64) Performance. 
It can play most games currently out there with good fps and at high resolutions. 
For I/O there are 4 mini DisplayPort 1.4. You may need an adaptor if using this graphics card in order to convert the mini DisplayPort to full sized DisplayPort.
It uses less power than that of the Vega series with 230 W TBP and 1 x 6-pin and 1 x 8-pin connector from your PSU.
| Positives | Negatives |
| --- | --- |
| Performance is quite good | Not strictly used for gaming |
| Can be used as a workstation and gaming GPU | Uses a fair amount of power |
| Lots of VRAM (8GB) | |
AMD Radeon Pro WX 8200 8GB Specs
| AMD Radeon Pro WX 8200 Specs | Value |
| --- | --- |
| Stream Processors | 3584 |
| Base Clock | 1200 MHz |
| Boost Clock | 1500 MHz |
| Memory | 8GB 2Gbps |
| Power Connectors | 1 x 6-pin, 1 x 8-pin |
| Outputs | 4 x Mini DisplayPort 1.4 |
An HBM2 based graphics card is the ideal way to go if you are looking for raw power out of a graphics card. The HBM2 cards come with relatively higher VRAM and are very good at handling work and gaming in higher resolutions.
However, there is a little drawback. The majority of HBM2 cards in the market are extremely expensive and the more budget-friendly ones come from AMD mostly. These AMD cards are notorious for consuming more power and outputting a lot of heat and noise.
They are also a bit bad with DX12 performance and lacks a lot of features a more budget-friendly GDDR GPUs from both Nvidia and AMD have. Nevertheless, HBM2 cards will perform heavier non-gaming tasks like for Cloud systems, Artificial Intelligence, etc.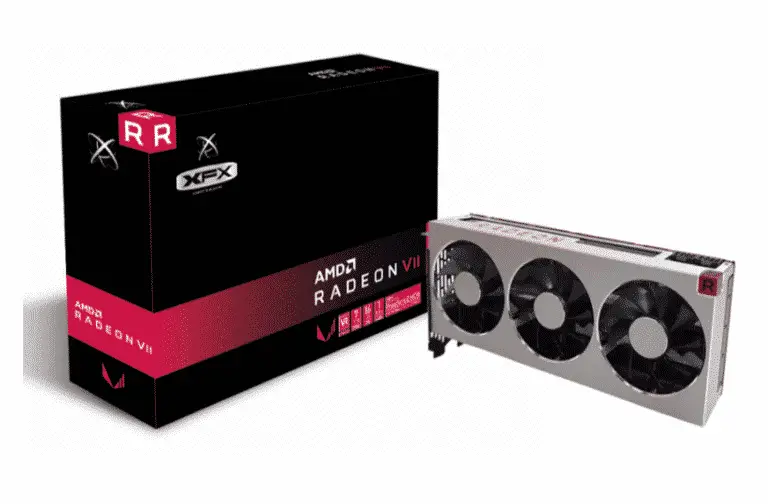 The Best HBM2 Graphics Card In Our Opinion
We chose this card as it has a great price to performance. It features lots of HBM2 memory and is great for gaming in addition to other tasks like AI.
It is also good at a workstation card for rendering and processing which makes it a very versatile graphics card
Last update on 2023-05-24 / Affiliate links / Images from Amazon Product Advertising API