Best External GPU Enclosures (eGPU)
Before introducing eGPU gaming on laptops, it was impossible for those who wanted a powerful experience because gamers could not access the best graphics for such machines. With the introduction of eGPUs, gamers can now get better graphics without having to deal with the upgrade of the entire gaming setup.
The enclosures come in different types, with some of them having the ability to fit HDDs and SSDs, thus giving you more gaming storage options. Some of the best external graphics card enclosures you can find in the current market include the following below:
Table could not be displayed.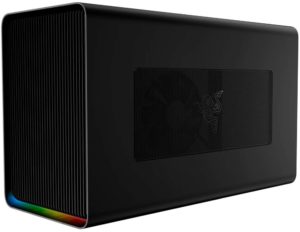 Razer Core external graphics card enclosures have always been known for their external aesthetics and performance levels, and the razer core X isn't different.
Other than performance, this eGPU also gives you high efficiency and compatibility, but it comes at a higher price. The enclosure size allows the use of triple-width, and different brands and models of laptops can use it.
You can use Quardo, Radeon and GeForce graphics cards but you should be ready to give up connectivity if you buy the default one as it has limited ports (the chroma has more ports). If you like Razor Core, but X version isn't for you, then you can consider getting V2, which has similar features and performance abilities. It also supports full-length, double-width, and full-height graphics cards and comes with thunderbolt 3, 4 3.0 USB ports, and an ethernet port.
| Positives | Negatives |
| --- | --- |
| The enclosure is visually pleasing | It comes in a large size and isn't very lightweight which makes it less portable |
| This is the only eGPU that holds triple-width graphics cards | There aren't a lot of ports that interfere with various displays. |
| It can be used with several eGPUs and laptops because of its compatibility mode. | |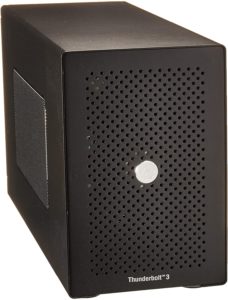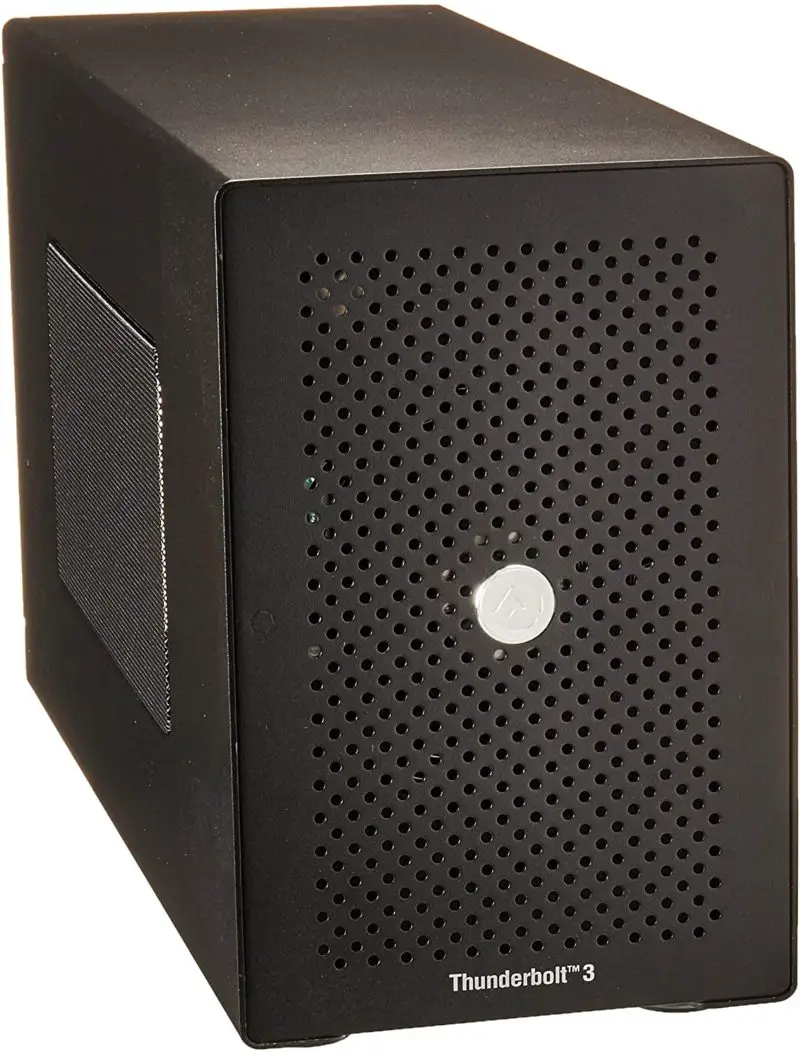 If you prefer an external graphics card with an old school design but modern functionality, this is the perfect eGPU for you.
The design makes it one of the least attractive enclosures, and its large size also reduces the visual appeal, but it is capable of delivering on the best gaming performance. On the positive, its large size means that you can use various graphic cards, but it makes it harder to move on the negative.
Some of the graphics card models the enclosure can be used with include Radeon and Nvidia cards, which gives you a wide range of options to choose from. It also comes with a 400W power supply, which is great for optimal performance, but its single thunderbolt port limits connectivity.
| Positives | Negatives |
| --- | --- |
| Supports large sized graphics cards | Its weight and size make it difficult to move around even though it has a used handle. |
| It can accommodate a wide range of GPUs even the ones with large sizes | There are no USB ports which limits the connection |
| Includes a 400W PSU | |
Gigabyte AORUS RTX 2080 Ti GAMING BOX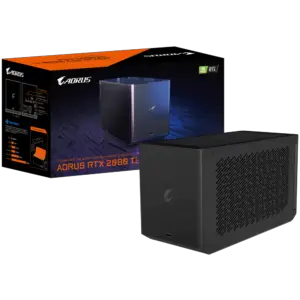 As one of the reputable companies in the gaming industry, Gigabyte has continuously produced highly functional graphics cards, and their Aorus RTX 2080 Ti eGPU doesn't disappoint.
The advancements that this enclosure has are impressive and they are improvements from the previous versions of eGPU enclosures. Its ability to transfer up to 40Gbps makes it one of the most powerful external graphics card enclosures, and it comes with multiple connectivity options that also enhance the gaming experience. You can set up multiple monitors, and you can run VR gaming in addition to 4k, 1440p and 1080p gaming.
This enclosure has a non replaceable RTX 2080 Ti inside of it. This card provides great gaming performance but you are limited to the card inside.
| Positives | Negatives |
| --- | --- |
| The enclosure supports quick charge through its 3.0 port which increases convenience | Despite its great performance, the eGPU doesn't allow the use of graphic cards other than the installed one. |
| There are multiple display ports which can be used for multiple monitors | Setting up the external graphics card in a Mac laptop is a little challenging. |
| High-performance level graphics card form Nvidia | |
Alienware Graphics Amplifier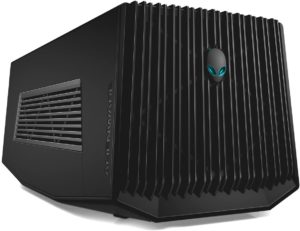 Alienware has been in the gaming industry for over 10 years. And it has maintained its quality over the years, even after they were acquired by dell.
Although the Alienware eGPU enclosure comes with a propriety port for Alienware laptops only, it is great for such users.
It makes up its limited ports by its attractive design and high-performance delivery. It also doesn't come with a built-in graphics card, but you can insert full-sized graphics cards. Its 460W power supply helps with the use of other graphic cards, especially those with PSU requirements of 460W and below. 4 USB ports can be used.
| Positives | Negatives |
| --- | --- |
| The enclosure supports various GPUs | It is heavy and therefore less portable |
| It is one of the affordable eGPU options | Less compatible (only works with alienware laptops) |
| It can be upgraded | |
| Comes with additional USB ports with high-speed performance | |
Asus RoG XG station 2 - One of the Best External GPU Enclosures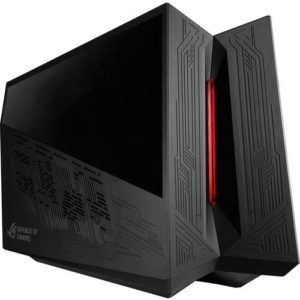 Asus is also known for its high-end gaming accessories, including the RoG XG Station 2. This external graphics card enclosure comes with a great aesthetic design that grabs your attention the moment you see it.
The casing comes with textured stripe patterns and a sleek black color together with RGB lighting makes it very attractive. However, it doesn't have an in-built GPU, which is the main disappointing factor.
Its compatibility is great, and its size allows the use of full-size graphic cards, both modern and old. Most Quadro, radeon and GeForce 900 series and above are compatible.
Another major feature of this eGPU is the inbuilt fans who are inbuilt to cool off the cards when they are being used. Apart from the thunderbolt 3.0 port, the enclosure also comes with 4x USB 3.0 ports and USB Type B. Its 600W power supply enhances the functionality, and its compatibility creates room for RGB customization and use of the AURA software.
| Positives | Negatives |
| --- | --- |
| Exceptional exterior design | Doesn't have a built-in graphics card |
| There's room for the use of a full-size card | Is a little expensive |
| Very compatible | |
| Is portable despite its size | |
If you want an external graphics card enclosure suitable for both long term and short-term use with the great exterior design, then the Asus ROG XG station is the best choice. The enclosure may be expensive, but it provides great value, especially for long term users.
Only those who prefer an eGPU for Alienware laptops can the Alienware Graphics Amplifier be the ideal option.
Razor Core X is great for those who want a more compatible enclosure, whereas Akitio node is great for easier video editing and more compatibility. 
The Gigabyte Aorus RTX 2080 Ti Gaming Box offers more connection options and high-speed transfers. All these external graphics card enclosures come at different prices that you should also consider when buying one.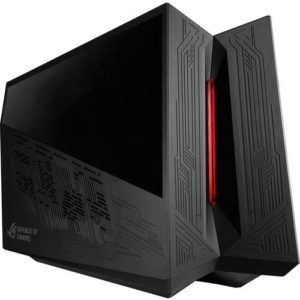 The Best External GPU Enclosure (eGPU)
We chose the Asus RoG XG Station 2 due to its great compatibility and design. It has lots of ports and although it is a little expensive it allows enthusiasts to choose their graphics card to have a great experience.
Last update on 2023-05-29 / Affiliate links / Images from Amazon Product Advertising API