Best AMD Graphics Cards for Gaming
AMD has managed to match its rival in recent years with a wide selection of quality graphics cards. AMD offers a great balance of performance and affordability, making them a top choice for budget-minded gamers.
Whether you are upgrading an existing PC or building a new system, consider using one of the following top six AMD graphics cards for gaming.
Table could not be displayed.
Top 6 AMD Graphics Cards for Gaming
AMD Radeon RX 6900 XT Phantom Gaming D 16G OC
If you want the absolute best AMD card available, the ASRock AMD Radeon RX 6900 XT has you covered. It includes 16GB of GDDR6 RAM and has a GPU clock speed of 2340 MHz.
The RX 6900 XT delivers 23.96 teraflops of computational power, which is only matched by the most expensive Nvidia cards. The card includes support for 8K resolution and ray tracing, ensuring you can continue using the same card for at least a few years.
Gamers who enjoy looking at the insides of their PCs should also enjoy the colorful design. The card includes ARGB LEDs, allowing you to sync the lighting to the rest of your RGB light scheme. In order to control and sync your RGB you can use Asrock's Polychrome RGB Software.
| Positives | Negatives |
| --- | --- |
| The best performing AMD card currently available | One of the most expensive AMD cards available |
| Supports 8K resolution and ray tracing | Higher prices |
| Should offer quality gaming for years to come | |
MSI Gaming AMD Radeon RX 6800 16GB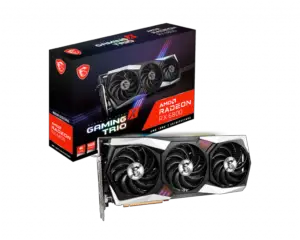 The MSI Gaming AMD Radeon RX 6800 with 16GB of GDDR6 memory is based on the AMD RX 6800, which uses the same RDNA 2 architecture found in other AMD cards of the past two years.
The card includes three DisplayPort outputs and one HDMI output. It also has a maximum resolution of 7680 x 4320 (8K) resolution and supports ray tracing.
The card resembles other cards from MSI Gaming, with a geometrical design around the fans and LED lights. It is also well-built, thanks to a lightweight frame featuring a graphene backplate for extra reinforcement.
While it looks pretty, it also delivers a lot of power, with a total of 16.17 teraflops. It is closely matched by the GeForce RTX 3060 Ti.
| Positives | Negatives |
| --- | --- |
| Supports 8K video and ray tracing | It is one of the more expensive choices |
| Includes an advanced cooling system for quieter operation | |
| Requires less power compared to RX 6800 cards from other manufacturers | |
XFX Speedster MERC319 AMD Radeon RX 6800 XT 16 GB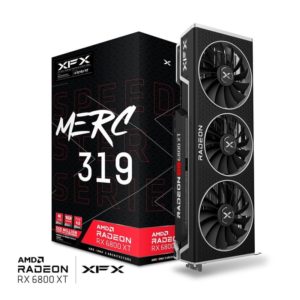 The XFX Speedster is a 6800 XT which is better than the 6800. It provides greater performance when it comes to gaming. It also costs a bit more but is worth it in terms of the price to performance.
This design features 3 high intensity fans for the ultimate cooling. The design is sleek which is great for a minimalist non RGB build.
| Positives | Negatives |
| --- | --- |
| Supports 8K resolutions and ray tracing | The fan is a little noisy |
| Tends to cost less than Nvidia cards with comparable performance | Requires more power compared to other choices |
| Includes a sleek design that looks great in PCs with window cases | |
AMD Radeon RX 5700 XT 8GB GDDR6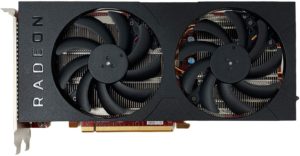 The AMD Radeon RX 5700 XT is a significant drop in price from the previous recommendations, with an MSRP of less than $400. However, scalpers may offer it at three times the price.
If you can get it at the right price, the RX 5700 XT offers the best value for your money. It peaks at just under 10 teraflops, which is more than enough for playing games on high graphics settings.
The design of the card is simple. It has a matte black enclosure with a dual-fan cooling system and no backplate. If you prefer graphics cards with RGB lights and intricate designs, you may want to consider other cards. For those who care more about value, the RX 5700 XT is a top choice.
| Positives | Negatives |
| --- | --- |
| Offers the best value for your money | Not always available at the suggested retail price |
| Provides enough processing power for 4K at low settings | |
| Works best at 1080p resolution with maxed out graphics settings | |
ASRock AMD Radeon RX 5600 XT Challenger D 6G OC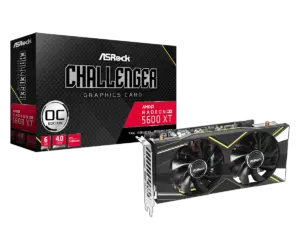 The ASRock Challenger D Radeon RX 5600 XT is a step down from the previous option but also costs less. If you are not worried about 4K gaming, the RX 5600 XT is a great choice, as you can max out the graphics settings at 1080p for almost any modern AAA game.
The card includes support for Radeon FreeSync and HDR. However, it does not offer hardware ray tracing. It can mimic ray tracing using specialized software.
The ASRock Radeon RX 5600 XT has a simple, sleek design with two fans. It sounds quieter compared to the more powerful cards but needs to sit in a case with efficient cooling. The design does not offer the best airflow, which could lead to overheating issues when pushing the card or overclocking it.
| Positives | Negatives |
| --- | --- |
| Includes support for HDR and Radeon FreeSync | May overheat if the case is not properly cooled |
| One of the more affordable AMD graphics cards | |
| Includes 4K support, but works better with 1080p and 2K resolutions | |
ASUS ROG STRIX AMD RX 580 8GB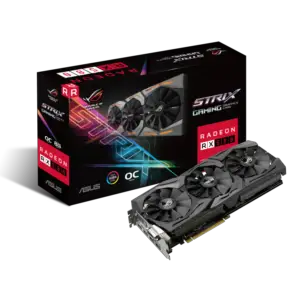 The ASUS ROG STRIX AMD RX 580 is a slightly older graphics card compared to other recommendations. It uses GDDR5 video memory instead of the GDDR6 memory used in the previous cards. However, it is a great entry point for budget-minded gamers buying their first dedicated graphics card.
This affordable graphics card includes 8GB of memory. You get enough video memory to handle almost any game at maxed-out graphics with 1080p resolution. If you have a quality CPU and enough RAM, you may even enjoy 2K resolution at full settings.
The card looks great, thanks to the futuristic design found in most cards from ASUS ROG. It also features Aura Sync RGB lighting.
| Positives | Negatives |
| --- | --- |
| A low-cost AMD card for beginner PC gamers | Does not support 4K resolution or ray tracing |
| Durable, attractive design that matches other ASUS ROG products | |
| Includes ASUS Aura Sync RGB lighting | |
AMD graphics cards are often reasonably priced, especially when buying a third-party version. ASUS, ASRock, and MSI Gaming produce affordable AMD cards capable of playing the latest AAA games.
To choose the right card for your PC, set a budget and find out how much video memory you can afford. The RX 5600 XT from ASRock is the most affordable option and offers 6GB of memory, which is the minimum recommendation for 4K gaming.
The RX 5700 XT and RX 580 both include 8GB at decent prices. Depending on your CPU and RAM, 8GB may keep you playing the newest video game releases for a few years to come.
If you want to futureproof your gaming PC, consider getting the ASRock Radeon RX 6900 XT or the MSI Gaming Radeon RX 6800. Both cards include 16GB of video memory and support ray tracing.
Be sure check our other guides and articles on the best graphics cards you can get.
AMD Radeon RX 6900 XT Phantom Gaming D 16G OC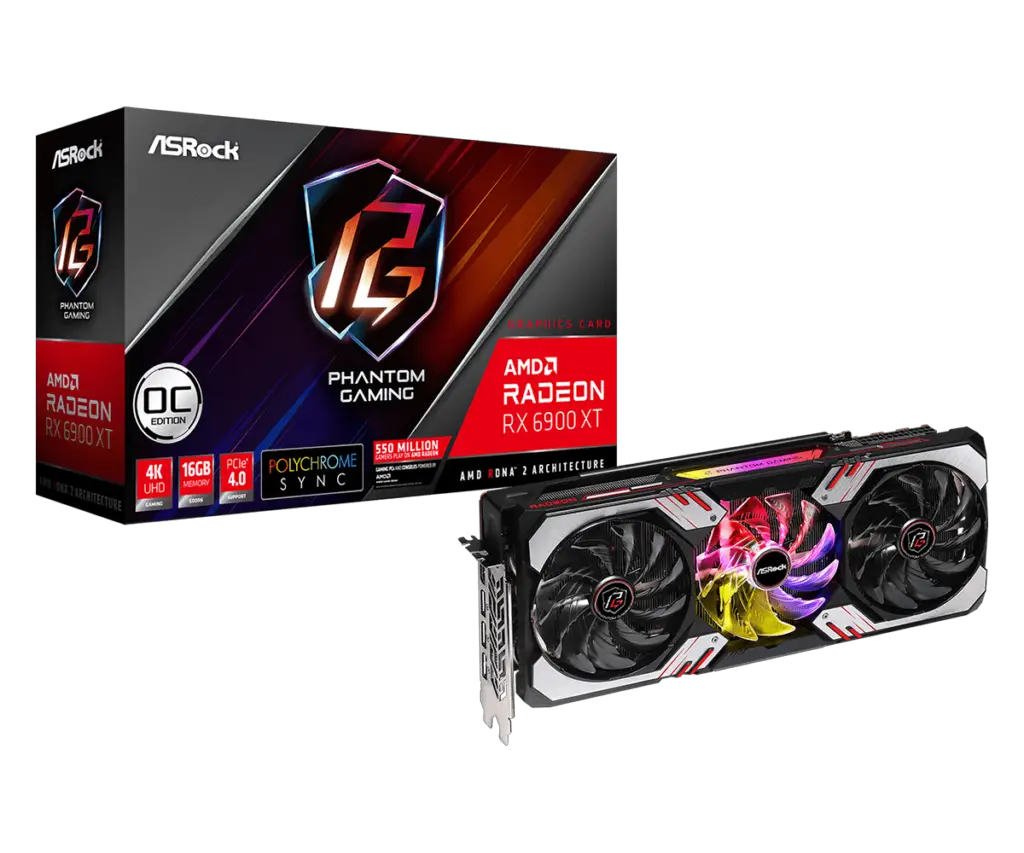 The Best AMD Graphics Card in our opinion
The RX 6900 XT is a great graphics card with great performance. Although the price may be a lot of most people, it makes up for it with performance and features. 
If you're looking for the best amd graphics card gaming experience then the RX 6900 XT is for you.
Last update on 2023-05-30 / Affiliate links / Images from Amazon Product Advertising API