Best Cloud Hosting Providers With Dedicated GPUs
Cloud hosting is great option for multiple use cases. You can host websites, programs, bots and many other things 24 hours a day with little or no downtime. The only limitation from these is that they only have CPU resources and memory. 
This is fine for most applications but if you want to play games or train machine learning algorithms then it can be near impossible to do this on these types of servers. 
Machine Learning and Neural Network training can take days or even weeks to train on a CPU but on a GPU it can be done much faster usually within a couple of hours.
Playing games on the cloud is great for people using low end hardware as it takes the main processing to the cloud and streams the game to you. Nvidia GeForce Now is a great example of a cloud gaming service.
In this article we will go through the Best Cloud Hosting Providers With Dedicated GPUs.
If you use our referral link or code: PN8GNW2 at paperspace you can get $10 free to try out the service and we will also get some credit. Thanks.
| Provider | GPUs | Billing Type | Locations |
| --- | --- | --- | --- |
| Paperspace | P4000, P5000, P6000, V100, RTX 4000, RTX 5000 | Pay hourly or monthly, only billed for time server is on (+ storage fee) | US, Amesterdam (RTX only on US Currently) |
| AWS | M60, T4, V100, A100, NGC | Pay hourly for created server | Various |
| Google Cloud | K80, P100, P4, T4, V100, A100 | Pay hourly for created server | GPUs only in some of their locations |
| OVH | V100 | Pay hourly for created server | Canada / France |
| Microsoft Azure | P100, V100, P40, K80, M60, V100, A100 | Pay hourly for created server | Various |
1. Paperspace
Best Cloud Hosting Providers With Dedicated GPUs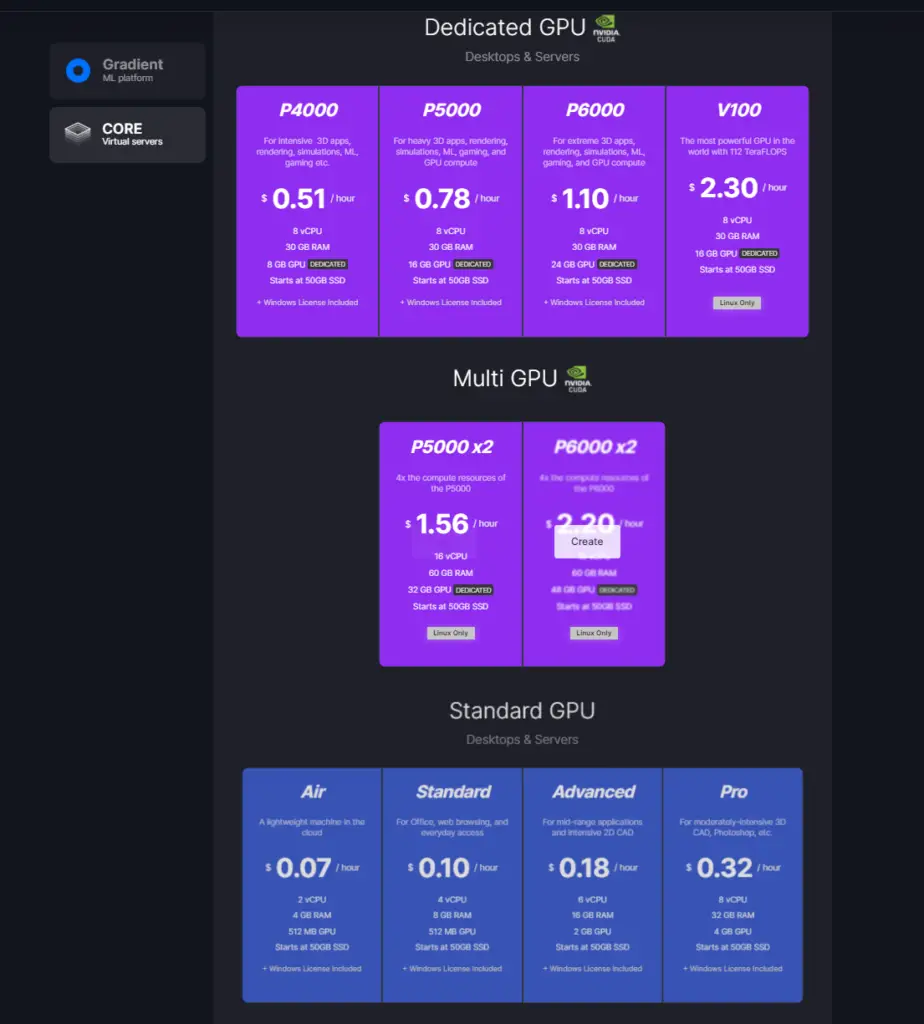 Starting off with one of the best, we have Paperspace. Paperspace is a cloud hosting platform with many options for Dedicated GPUs. You can get $10 free credit using this link console.paperspace.com/signup?R=PN8GNW2 
They have Standard GPU which is more of the lower end shared part for $0.07 to $0.32 an hour. The dedicated GPU ranges from $0.51 an hour to $2.30 an hour. This can seem very expensive but we will get onto this.
They have a wide range of graphics cards including Nvidia P4000, P5000, P6000 and V100. You can also get multiple of some of these graphics cards for even more GPU computing power. 
They also have RTX 4000 and RTX 5000 GPUs in some locations which is great as these GPUs feature ray tracing and have a lot better performance and are cheaper than the previous generation.
One thing that makes paperspace great is their billing. You only pay for the hours the machine is on plus the storage fee. The storage fee starts at $5 for 50GB and $7 for 100GB a month. 
The storage fee is charged every month and then all you pay for is the hours you use on the machine. If you don't want to pay the monthly storage fee, you can deactivate the machine after and you will only be charged a fraction based on the time you used but you will have to reinstall and all your files will be gone.
From Paperspace's website: "Hourly Subscriptions are best suited for those who plan to use their VM no more than a few hours each day. We bill these machines with precision down to the millisecond, strictly for the time they were ON. Hourly Subscription VMs start with a default of $5/mo for 50GB of storage (Parsec machines start at $7/mo for 100GB), with the option to increase storage at a later date."
This is great if you're doing a few hours here and there as you won't be charged very much as long as you're using the hourly price. If you need the server to be on 24/7 then you will want to choose the monthly pricing which is still very reasonable.
You can install Windows server 2019 in desktop mode or 2012 or install your own license. They also have Parsec OS which is windows server with steam, origin blizzard etc installed as well as parsec so you can easily connect your account and game with friends.
On the Machine Learning side you can install FastAI or ML In a Box. You can also install anything else using Windows or Linux like python.
Amazon AWS is a well known hosting provider. They provide a lot of features but you have to know what you're doing as it's quite complicated to get things set up.
Amazon AWS has EC2 instances which you can get in P4, P3, P2 etc (tabs at the top). They contain different GPUs and features so you'll have to decide carefully which you need. 
The great thing about AWS is the wide selection of GPUs you can choose. They even have the A100 Tensor Core GPUs which are on the ampere architecture.
The pricing for these tends to be quite high and are usually billed for the time you have them created so it's not really ideal unless you want to use it for the whole month. The price can also rack up quick if you're not careful.
They have Nvidia M60, T4, V100, A100 and NGC.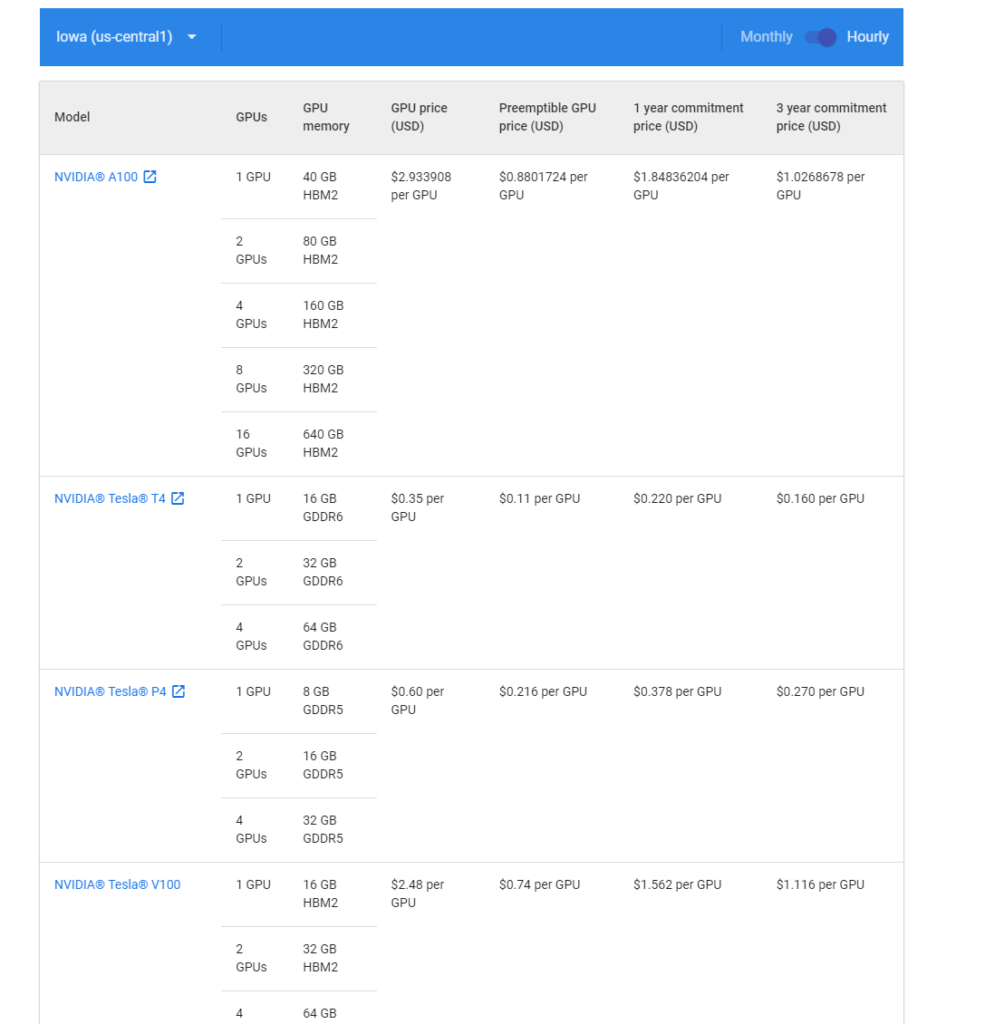 Google Cloud only offers GPUs in certain locations and vary in price per location. You get different prices depending on how long you want to commit for. This is not ideal for people who want to use their server for just a couple of hours here and there.
You will be charged for the whole time the server is created and so in order to stop being billed you would have to delete the server. This is more tailored towards applications that require 24/7 uptime.
NVIDIA K80, P100, P4, T4, V100, and A100 GPUs are available for use all varying in price. To see the full pricing table click the link above. Like AWS they also have the A100 GPUs on ampere so are great for very high intensity applications.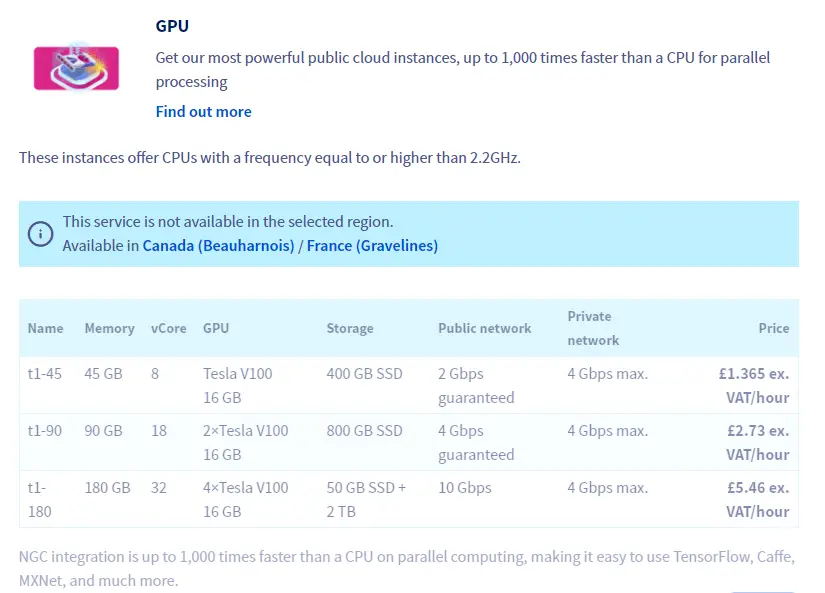 OVH is a well known and established cloud computing provider. They have plans which can be used from £1.365 an hour, up to £5.46 an hour.
Currently, they only have Nvidia V100 GPUs but you can get multiple of them if you need more computing power for you ML application.
Their Pricing is a little bit more expensive than the others but you also get CPUs with a frequency higher than 2.2 GHz, 400GB SSD and 45 GB of memory which make the server very powerful.
You can install your own OS like windows server 2019 and run anything you like such as python with TensorFlow, Steam for gaming etc.
Billing is charged when your server is created so can get quite expensive if left created for a month.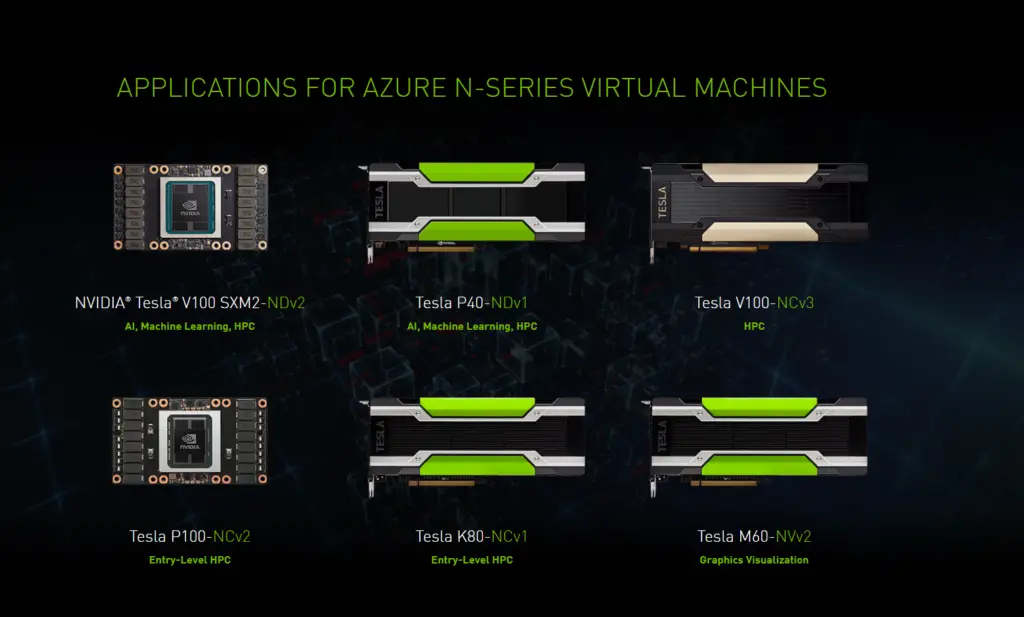 Microsoft Azure is very similar to AWS and Google cloud platforms. It can get expensive but is great for ML and AI training.
They have Nvidia P100, V100, P40, K80, M60, V100 and A100. A100 is on the ampere architecture and is very powerful.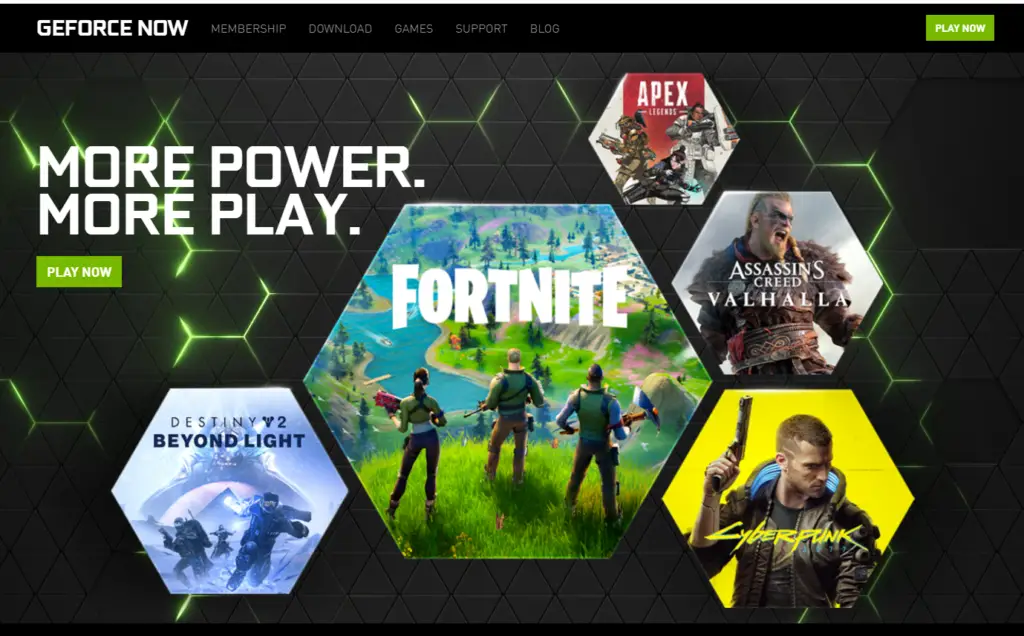 If you just want to play some games through a cloud platform, then Nvidia GeForce now is for you.
It is free with standard access and 1 hour session length or you can upgrade to the priority which is £8.99 a month or about $9.99. This gives you priority access, RTX and extended session lengths.
The great thing about GeForce now is that you play the games you already own. There is no need to purchase games again, since you link your steam library. 
You can even play games that are not supported but you have to download them every time and file will need to be saved to the steam cloud for saves to work. This isn't a problem as the internet speed is very fast and will download most games in seconds.
There's less features for local multiplayer, coop and playing single player games with your friends here when compared to parsec. You might want to consider using parsec with Paperspace integration if local multiplayer and playing single player games with friends is more your thing.
If you just want to train ML or play some games sometimes then your best bet is to use paperspace. It only seems reasonable to use the other providers if you need more power or 24/7 use. Paperspace's billing makes it a lot better than the other options which can end up costing you a lot if you're not careful. 
Paperspace is also very beginner and user friendly whereas some of the other options like azure might take some learning.