Best Graphics Cards for Two 4k Monitors
With the current prices of 4k monitors, they are more affordable than ever. However, using the monitors efficiently requires a pretty decent graphics card. Cards will usually require at least two display ports to allow the monitors to work at their full power. Most HDMI ports can only support 24 or 30fps when it comes to 4K. This is not at all ideal for gaming. We will list some graphics cards in the Best Graphics Cards for Two 4k Monitors. However, it may not work well if you're playing on both monitors at the same time as this requires a lot of power. (We also don't think two monitors as one display works well if gaming as everything will be in the middle where the bezels are.)
Gigabyte GeForce RTX 2060 OC 6GB GDDR6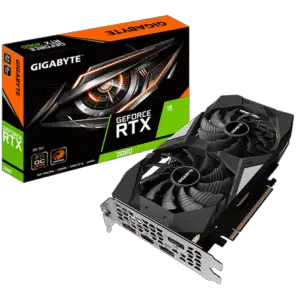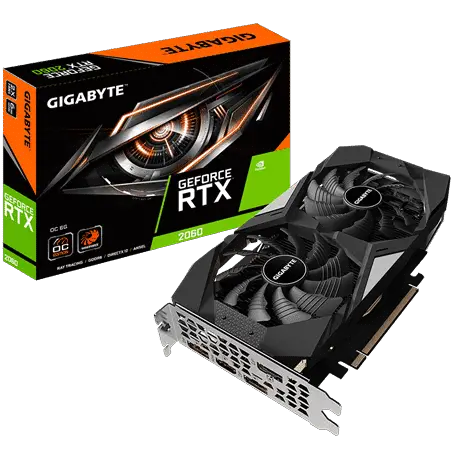 So first up, we have the Gigabyte Geforce RTX 2060 OC 6GB GDRR6 edition. Not only is this graphics card overclocked but it has WindForce fans to keep your graphics card cool whilst gaming.
This card has 3 full sized display ports so you can easily connect up to 3 4k monitors with the full refresh rate required. When it comes to gaming this graphics card can handle a single 4k monitor at decent fps in most new games at medium to high. Don't expect too much however because gaming at 4k requires a lot of power.
| Positive | Negative |
| --- | --- |
| Not too expensive | Cant game very well at 4k |
| Lots of I/O | Only 6gb |
| Windforce fans | Can be loud |
| Quite low power | |
| Only 1 8-pin connector needed | |
| Overclocked | |
| GDDR6 | |
MSI GeForce GTX 1660 Ti Ventus XS OC 6GB GDRR6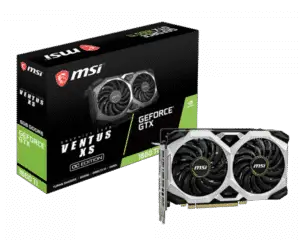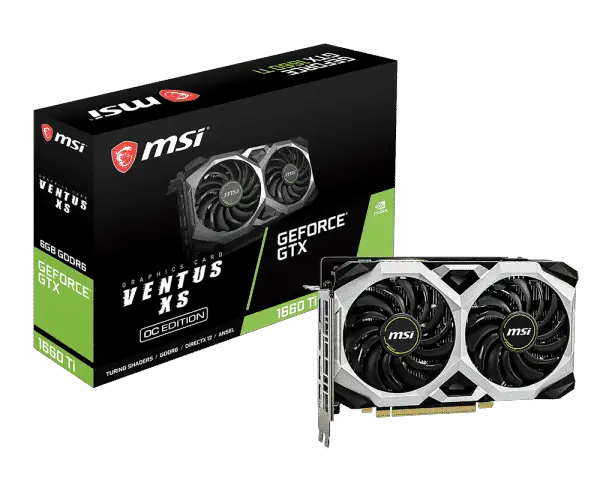 Next we have a slightly less powerful card but still definitely worth it for the money. With also 3 display ports, it can power up to 3 4k displays at the full refresh rate. However this card isn't very powerful in 4K terms and may struggle with some games at high settings. It will still be able to show 2 or 3 4k displays.
Like the RTX 2060, this card is new and has the latest Nvidia architecture Turing. Two Torx fans cool this card as well as a back-plate for strength and heat dispersion. MSI's afterburner can be used to fully control this graphics card including: fan speed, clockspeed and customization.
| Positive | Negative |
| --- | --- |
| Overclocked | Not great 4k gaming |
| GDDR6 memory | only 6gb |
| Lots of I/O | |
| Good price to performance | |
| Only one 8 pin connector required | |
| Turing Architecture | |
EVGA GeForce GTX 1080 Ti FTW3 11GB GDDR5X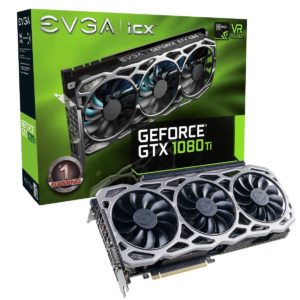 The GTX 1080Ti is a slightly older card powered by Pascal to be included in the Best Graphics Card for Two 4k Monitors list. Having said this, the card is a very good and powerful card better than a lot of the alternatives.
The Price will however reflect this. With three display ports like the other cards mentioned it is possible for three 4k monitors to be connected. This card can easily play games at high and sometimes ultra at 4k with decent fps. Three large fans cool this card and make it very cool. However, this causes the card to be large in size so will require a fairly big case! Also included are 9 thermal sensors so you can control the thermals easily in addition to this there are RGB lights for great customization.
| Positive | Negative |
| --- | --- |
| 3 fans | Long card |
| Lots of I/O including DVI | Requires two 8 pin connectors |
| RGB Lights | GDDR5x not GDDR6 |
| 9 thermal sensors | Older card (Pascal) |
| Great Airflow | Can be hard to find as its older |
| | |
Gigabyte GeForce RTX 2070 SUPER GAMING OC 8G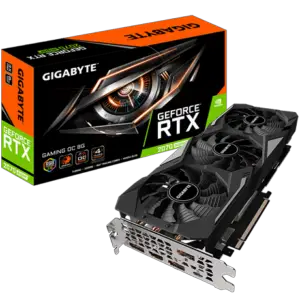 When it comes to gaming the RTX 2070 is great card. Although you wont be getting the 60 fps at ultra/ high in most games in 4k, you will still be able to achieve a solid 30 fps (and higher!) at most games at medium high settings. This version is the overclocked gigabyte super gaming version, featuring RGB Fusion 2.0 (check our Best RGB graphics cards here) and the classic WindForce fans for optimal cooling. Like the 1080ti above this card is quite a long card featuring three WindForce fans so you may need to check if this card will fit in your case.
Gigabyte's RTX 2070 features a back plate for strength in addition to heat dispersion. It also includes a feature useful to some which is the power light indicators above the power connectors. They light up when not connected and blink when there is abnormal power supply. Using Gigabyte's Aorus engine allows you to customize your graphics card. This includes: monitoring temperatures, voltage, and also overclocking.
| Positive | Negative |
| --- | --- |
| 3 fans | Long Card |
| RGB Lights | Can get loud |
| Power indicator lights | 4k gaming is good but not the best |
| Newest architecture (Turing) | |
| GDDR6 | |
Asus ROG Strix GeForce RTX 2080 OC edition 8GB GDDR6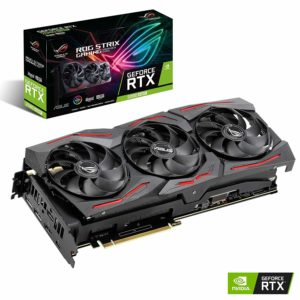 A step on up from the RTX 2070, we have the Asus ROG Strix GeForce RTX 2080 OC. This graphics card is very powerful and can play 4k games at near 60fps at high or ultra although you may notice some dips down. The Asus version is overclocked like many other cards as well as having RGB lighting.
The card has more than enough ports so you can connect two 4k monitors at 60 Hz using the display port but if you want to connect another you will have to use the HDMI which may not support 60Hz or you can use the USB-C port which is a very useful port. Cooling this card are Axial-tech fans which run at 0dB below 50C and Asus's RTX 2080 features a reinforced frame architecture for stability in the card. You can use Asus's GPU Tweak II to monitor, tune as well as tweak your graphics card's performance.
| Positive | Negative |
| --- | --- |
| RGB Lights | Long Card |
| Has USB-C | |
| 3 fans | |
| Good Performance in 4k | |
| Newest Architecture (Turing) | |
EVGA GeForce RTX 2080 Ti XC HYBRID GAMING 11gb GDDR6 – One of the Best Graphics Cards for Two 4k Monitors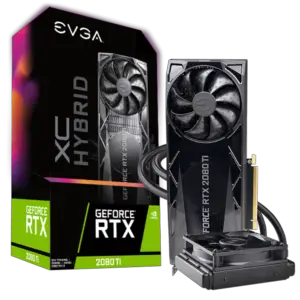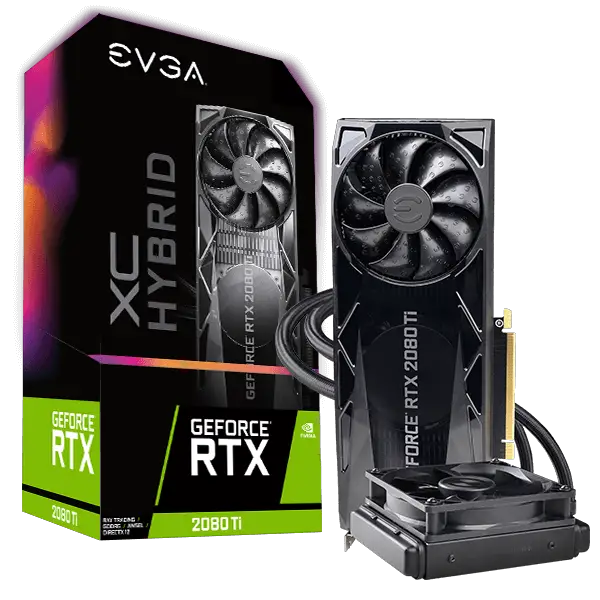 The last card we recommend for Nvidia cards we have one of the most powerful graphics cards you can currently get. The EVGA GeForce RTX 2080 Ti version includes a water cooler for optimal cooling. Although this card is quite expensive it has great performance with 4k games it can run them at 60fps at high / ultra settings without any dips down.
Included on this card is a USB-C port in addition to 3 display ports so you can connect lots of 4k monitors. RGB lighting allows you to customize the color of this card to any color you can think of. The metal back plate supports this card which will allow for longer life-span.
| Positive | Negative |
| --- | --- |
| Water cooled | Expensive |
| RGB Lighting logo | Requires a good power supply of at least 650W |
| 11GB GDDR6 | |
| USB-C | |
| Great performance in 4K | |
| Latest Architecture (Turing) | |
Overall 4k gaming requires high performance graphics cards. If you're just using the monitors (ie not to game) then we recommend one of the cheaper options like the 1660ti or 2060. However, if you are gaming at 4k then you will probably need a card such as the 2070 or 2080. To game at two or three 4k monitors you would need a lot lot more power. This would mean using Nvidia SLI to have a somewhat decent experience.