Asus graphics cards and all graphics cards for that matter produce the image you see on the monitor of your desktop or laptop. There are gaming graphics cards, PCI graphics cards that are integrated into the motherboard, AGP, and other varieties. Depending on what you're doing on your computer, the graphics cards you'll choose will differ. For example, an Nvidia or AMD is ideal for gaming. But, Asus graphics cards are also available for general computing needs.
Here we'll cover a few of the top mid-range and high-end Asus graphics cards for you to consider investing in, if you're building a new PC, or simply looking to upgrade your current card.
Check out our Best Gigabyte Graphics Cards Here.
If you don't have much to spend on a graphics card, you're probably looking at something priced between $300 to $600. These are a couple of options to consider if you're on a tighter budget when shopping for Asus graphics cards.
ASUS GeForce GTX 1060 3GB Phoenix
This graphics card is reasonably priced at about $310 for 6 GB and about half that price ($150 to $160) for the 3 GB variety. It is powered by NVIDIA Pascal and features a 1708 MHz boost clock in a shorter-form factor. The graphics card features a dual-ball bearing fan to provide optimal airflow and helps extend the lifespan of your graphics card by up to two times. This graphics card also features a game-booster and XSplit gamecaster in an intuitive interface. It's excellent for streaming or fast-paced gaming.
Overall, there are only a couple of minor detractions that customers complain of with this graphics card. All in all, it's well-designed, quick, has high clock rates, and performs well for general streaming and lower-paced gaming. And, for the price, you can't beat this model.
Positive
Negative
3GB and 6GB variants
Some reviewers complain it gets too hot and is very noisy at faster-paced use
It features auto-extreme manufacturing technologies delivering premium quality and reliability
It works okay at 1080 p gaming at 50 to 60 frames per second (fps), however, anything faster, there's a
lag in gameplay
It's made with aerospace-grade, super alloy power II components, so it runs faster and lasts longer to
similarly priced graphics cards
It's VR-ready and features Dual-HDMI ports so you can simultaneously connect VR-devices to the
graphics card
A minor GPU tweak (from the previous model) ensures monitoring performance and streaming is
better than previous graphics cards
ASUS Geforce GTX 1050Ti 4GB ROG Strix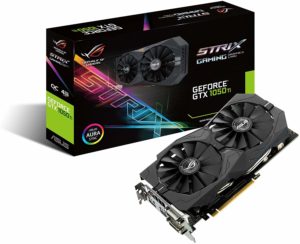 This is a second option to consider when looking at mid-range Asus graphics cards. This 4 GB size comes in at just shy of $400. It delivers for classic 1080 p resolution games, at up to 60 fps. It's fast and smooth for gaming action, and features the new NVIDIA Pascal architecture, for premier efficiency and clock speeds.
The unique lighting capabilities and patented wing-blade help improve overall performance with this mid level Asus graphics card.
Positive
Negative
It features Aura Sync RGB lighting on the shroud for unique/distinct gaming and personalization
A higher entry-level price point than the previous graphics card
There are 6 lighting effects and millions of colors to choose from for a unique gaming experience
It's okay for 1080 p resolution, anything higher you might require faster clock speeds
The auto-extreme technology features aerospace-grade Super Alloy finishes, and components run
faster than previous models of this card
The patented wing-blade reduces noise levels to 0 dB (decibels) and keeps your PC up to 30% cooler
than other cards
For those who want the absolute best, regardless of price, you can easily spend $1000 to $1500 or more on a new graphics card. These are a couple of options for you to consider when you're looking for the best clock speeds and performance, regardless of pricing.
ASUS GeForce RTX 2080 Ti 11G Turbo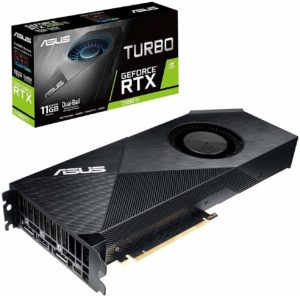 This graphics card is available for just under $1350. Although it's higher in price than the mid-range models, it delivers far more speed, precision, and excellent gameplay.
If you're going to engage in 4K gaming, 4K streaming, and fast-paced VR action, look no further than this gaming card.
| Positive | Negative |
| --- | --- |
| 4352 CUDA Cores | One of the primary drawbacks is the high price tag, but gamers who are looking for the best, probably expect this. |
| 11 GB of GDDR6 VRAM | Some customers claim it's unstable and blacks out regularly |
| 14 GB/s memory speed (fast-paced) | It's a little lower-end than Vega graphics cards, but coming in at a similar price point |
| Real-time ray tracing and enhanced technologies to improve VR-capabilities | |
| It can handle the demands of 4K gaming with high precision and output | |
ASUS GeForce RTX 2080 Ti O11G Dual-fan OC – One of the Best Asus Graphics Cards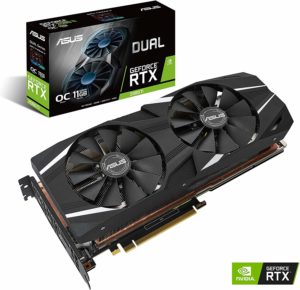 Priced at just over $1050, this is another Ti model, but the OC edition. It features a dual-fan design and can support up to four monitors at once. It's powered by NVIDIA Turing and features a 1650 MHz clock speed.
At this price point, you wouldn't expect so many performance issues. But, overall, the quality design, cooling fans, low-noise levels, and clock speeds, make this a great seller for gamers who want the best Asus graphics cards available.
| Positive | Negative |
| --- | --- |
| The X Split gamecaster | After several days of use, customers note it crashes on any game (even slower-paced games) |
| Durable aluminum construction won't overheat, regardless of how many monitors you're playing on | The PC freezes and white dots begin populating on the screen |
| HDMI 2.0 ports, and VR-headset compatibility with the USB connector port | It heats up very quickly |
| A protective backplate protects the graphics card from flex and trace damage | |
| The digital max resolution trumps the mid-range cards at 7680X4320 resolution | |
| It's dust-resistant and operates at 0 dB. | |
What's the Best Asus Graphics Cards for you?
Regardless of whether you're looking for dependability, precision, speed, or the overall best card, you see there are several from which you can choose when buying a new graphics card for your Asus device.
Consider these options if you're searching for the best mid and high-end graphics cards when building a new PC or upgrading the current model you own. Regardless of your budget, or whether you're looking for stability or the fastest-paced action, these four Asus graphics cards deliver excellent quality and performance. With most of the Asus graphics cards you can use GPU Tweak II to customize your experience.